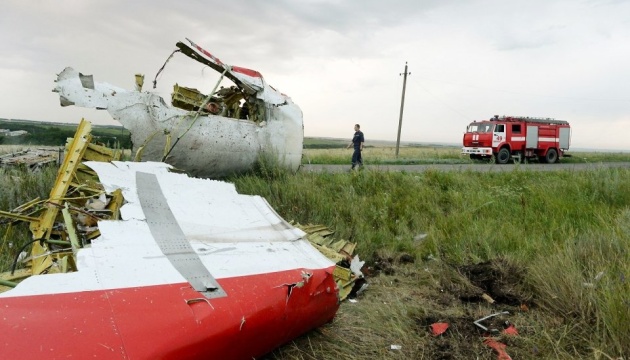 Zerkal disappointed by Russia's attitude to MH17 tragedy
There is new evidence in the case on the downing of Malaysia Airlines flight MH17 in Donbas, but Russia neglects it, Ukraine's Deputy Foreign Minister Olena Zerkal has said.
She said this at the International Court of Justice (ICJ) on Friday, according to Ukrinform's correspondent in The Hague.
"I'm disappointed by Russia's attitude to the MH17 tragedy. There is more and more evidence. All parties to the Joint Investigation Team supported the findings of the investigation that have currently been presented. The investigation is coming to an end, and we are convinced that indictments will be issued soon. Justice with respect to some individuals is important, just like the case itself. MH17 is a tragic page in the history of terrorist financing. This whole story must be fully considered on the merits," Zerkal said.
According to her, she is shocked by the fact that an agent of the Russian Federation commented on the internal affairs of another state - Ukraine, while addressing the World Court.
"On Monday, Russia accused us of a 'violent coup.' Yesterday, it tried to use the results of our elections against us. But let me dispel the doubts. I am here on the instructions of the president of Ukraine, with a clear mandate to protect Ukraine's interests and restore justice for its people," Zerkal said.
She noted that Ukraine had appealed to the ICJ as the last institution. "Everything we ask is to consider Ukraine's case on the merits," the Ukrainian agent said.
She called on the ICJ to confirm the existence of jurisdiction in Ukraine's lawsuit against Russia.
"Russia tried to distort the subject of the dispute, twisting the legal norms and denying the facts. However, Ukraine's requirements are clear. The dispute is obvious. Our conscientious efforts to resolve the dispute are also obvious, just like the jurisdiction of the court," Zerkal said.
On June 3-7, the International Court of Justice in The Hague holds public hearings on Russia's preliminary objections in Ukraine v. Russia case regarding the application and interpretation of the International Convention for the Suppression of the Financing of Terrorism and the International Convention on the Elimination of All Forms of Racial Discrimination.
On January 16, 2017, Ukraine filed a lawsuit against Russia with the International Court of Justice. The charges brought against Russia include the provision of weapons and other forms of assistance to illegal armed groups; shooting down the Malaysia Airlines Flight 17 (MH17); shelling residential areas of Mariupol and Kramatorsk in Donetsk region; destruction of a civilian passenger bus near Volnovakha in Donetsk region; explosion during a peaceful assembly in Kharkiv which caused human fatalities; discrimination against the Ukrainian and Crimean Tatar communities; the prohibition of activity of the Mejlis of the Crimean Tatar people, waves of disappearances, murders, unauthorized searches, detentions; restrictions on teaching in the Ukrainian and Crimean Tatar languages.
op