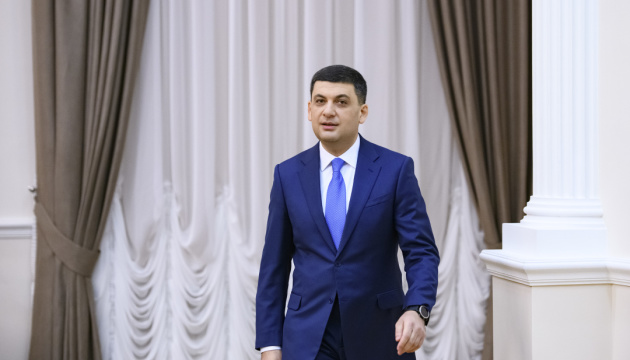 Groysman's resignation statement already registered in parliament
The resignation statement of Prime Minister of Ukraine Volodymyr Groysman was registered in the Verkhovna Rada of Ukraine.
"[The resignation statement of Groysman] was registered on May 23," spokesperson of the Parliament's apparatus Iryna Karmeliuk said in a commentary to Ukrinform.
Later, on the air of the Ukrayina TV channel, Groysman said that the government's work format would change from a planned and well-defined to a crisis one.
"I will ask the Ukrainian parliament to approve my resignation statement. After this, the law provides that I will remain in my post until the new government is formed. I can say that the government's work format will change. It was planned and clearly defined. Now it will be more similar to anti-crisis work, but I am also ready for this," Groysman said.
He also announced the creation of the Ukrainian Strategy political force to run in the snap parliamentary elections.
On May 20, newly elected President of Ukraine Volodymyr Zelensky assumed the office of the President of Ukraine. He announced his intention to dissolve the parliament and called on members of the government to resign. The same evening, Groysman announced his decision to resign as the prime minister.
The Constitution of Ukraine defines that resignation of the Cabinet of Ministers shall be approved by the Verkhovna Rada. The Prime Minister and other members of the government have the right to submit letters of resignation to Parliament. The lawmakers make the appropriate decision based on them.
The resignation of the Prime Minister of Ukraine entails the resignation of the entire Cabinet. In this case, the Parliament should form a new government. While it is being formed, the resigned Cabinet of Ministers should continue to fulfill its powers until the beginning of the work of the newly formed Cabinet of Ministers of Ukraine.
ol