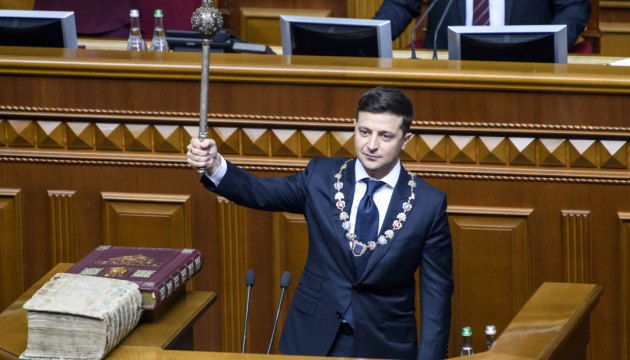 Putin has no plans to congratulate Zelensky on inauguration
Russian president Vladimir Putin has no plans to congratulate Volodymyr Zelensky on his inauguration as the President of Ukraine yet.
"President Putin will congratulate President Zelensky on his first successes in settling the internal conflict in south-eastern Ukraine, as well as on his first successes in normalizing Russia-Ukraine relations," press secretary of Russian president Dmitry Peskov told reporters when asked whether the Russian leader would congratulate Zelensky on his inauguration, TASS reports.
Peskov did not specify what the "first successes" could be. "But the first successes (in restoring relations between Moscow and Kyiv) will be obvious. If they happen, we will see them with an unaided eye," he said.
The press secretary added that Putin had no plans to be in contact with Zelensky. "No, there are no contacts on the current agenda," he said, answering the question whether contacts in any form are planned between the presidents of the Russian Federation and Ukraine in the near future.
As reported, on Monday, Zelensky took the oath in the Parliament of Ukraine and officially assumed office as the President of Ukraine. While delivering his speech, Zelensky declared the dissolution of the Parliament and proposed that the Cabinet of Ministers should resign.
Earlier, the Kremlin repeatedly refused to congratulate Zelensky on his victory in Ukraine's presidential elections after the official announcement of the voting results.
ol