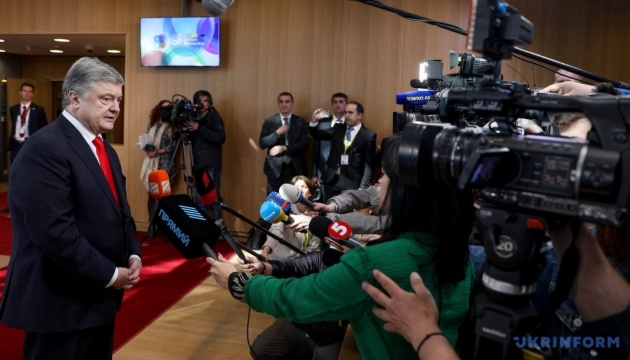 Ukraine must continue decisive actions for release of sailors — president
President of Ukraine Petro Poroshenko stresses that Ukraine should continue taking steps to free its sailors captured by Russia during the aggression in the Black Sea.
"We have to continue acting decisively for the liberation of our sailors," the head of state told reporters in Brussels on Monday, his press service informed.
Poroshenko reminded that pursuant to his instruction a group had been formed to represent the position of our state in the International Tribunal for the Law of the Sea, and there was already ongoing consideration of the case. "There were hearings in Hamburg and we are waiting for the decisions by the end of this month," the president said.
He emphasized that the decisions on the case should be binding for Russia.
"The decisions must be binding for the Russian Federation, which does not have any jurisdiction over our troops captured as a result of the act of aggression in the neutral waters of the Black Sea. The decision of the tribunal will be a requirement for the immediate release of Ukrainian sailors," the head of state said.
ish