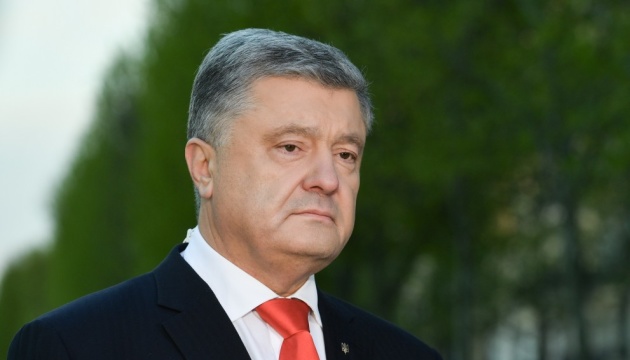 Poroshenko, Merkel, Macron discuss release of Ukrainian political prisoners
During the meetings with German Chancellor Angela Merkel and President of France Emmanuel Macron on April 12, President of Ukraine Petro Poroshenko raised the issue of release of Ukrainian sailors – prisoners of war, political prisoners and violation of rights of Crimean Tatars.
"The issue of 24 Ukrainian sailors, who are prisoners of war and who are beyond Russia's jurisdiction, was raised. They must be returned home immediately and unconditionally along with the military property. The freedom of navigation in the Kerch Strait must be restored," Poroshenko said in an interview with Ukrainian TV channels.
The Head of State also raised the issue of the release of political prisoners, who are currently held in prisons in Russia and in the occupied territories. The President also informed that he, Merkel and Macron touched upon the protection of the rights of the Crimean Tatars, which are "brutally violated precisely on the eve of the elections."
The issue of Paris-based Ukrinform correspondent Roman Sushchenko was also discussed during the meetings with the European leaders, Poroshenko noted.
"I separately raised the issue of our journalist, Mr Roman Sushchenko, during the conversation with President of France Emmanuel Macron. You know that he worked in Paris. The First Lady of France cared about his fate. And Emmanuel clearly stated that in the near future we would come up with the initiative again for Putin to keep his word, release Ukrainian Sushchenko so that he can return home as soon as possible," Petro Poroshenko said.
"We have clearly coordinated these steps - the relevant instructions were given in both Berlin and Paris. We resolutely start to prepare for the summit in the Normandy format, and these issues will definitively be on the agenda," Petro Poroshenko emphasized.
More than 70 Ukrainian political prisoners are being held in Russia and in the occupied Crimea, including Ukrinform journalist Roman Sushchenko, who was sentenced to 12 years in a maximum security penal colony for alleged spying.
The Ministry of Foreign Affairs of Ukraine has already sent about 300 notes to Russia demanding the release of Ukrainian political prisoners.
ol