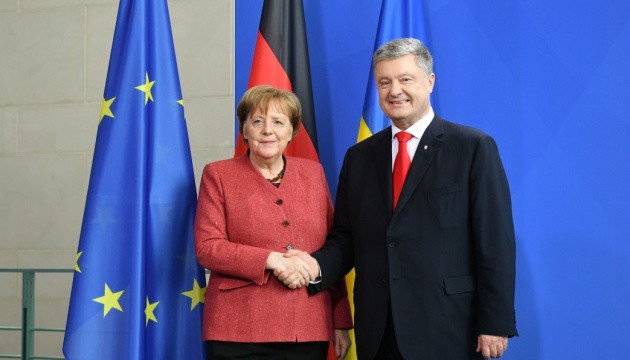 Poroshenko, Merkel back Easter ceasefire in Donbas from April 18
Ukrainian President Petro Poroshenko and German Chancellor Angela Merkel have supported the Easter ceasefire in Donbas from April 18.
Poroshenko said this at a joint briefing with Merkel following their meeting in Berlin on Friday, according to an Ukrinform correspondent.
"During today's discussion, we supported the Easter ceasefire that will come into force on April 18, given that it is observed by the Russian Federation," Poroshenko said.
He also thanked Merkel for a sincere and constructive meeting that took place at the office of the German chancellor.
"This is our 16th meeting during my term. I want to emphasize that Germany and Ukraine have never had such an intensive dialogue, and we have worked out a truly strategic partnership between Kyiv and Berlin," Poroshenko said.
He added that it was hard to overestimate Merkel's role in ensuring Ukraine's sovereignty and territorial integrity.
"Despite the election campaign, external challenges do not disappear anywhere, and the Russian aggressor would like to [split] Ukraine already on April 22. As president and supreme commander-in-chief, I will do my best to ensure that this scenario does not occur," Poroshenko added.
op