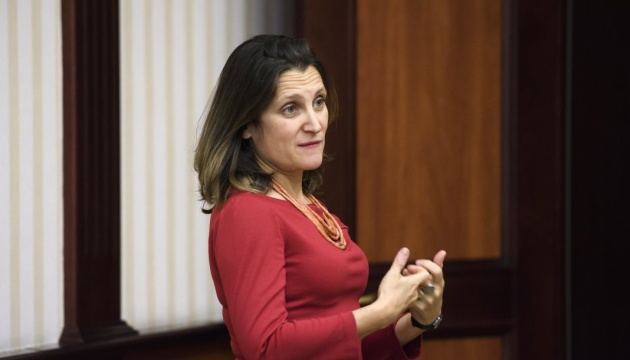 Canada calls on Russia to release Ukrainian sailors
Russia must release detained Ukrainian servicemen and return the vessels of the Ukrainian naval forces seized near the Kerch Strait in November last year.
"Alongside our international partners, we call on Russia to immediately release the 24 detained Ukrainian servicemen and return the seized vessels. Russia must allow free and unhindered passage through the Kerch Strait and the Sea of Azov," Chrystia Freeland, the Minister of Foreign Affairs of Canada, stated announcing the imposition of sanctions on 114 individuals and 15 entities of Russia, under the Special Economic Measures Act.
Freeland underscored that Canada and its allies "are unwavering in our support for Ukraine's sovereignty and territorial integrity."
"Russia's provocations in the Kerch Strait and its illegal invasion and ongoing occupation of Crimea will not go unchecked," the minister noted.
As noted, the sanctions, which were imposed by the EU, US and Canada [on March 15], demonstrate that Canada and the international community are ready to impose costs on Russia when it ignores international law and the rules-based international order.
ol