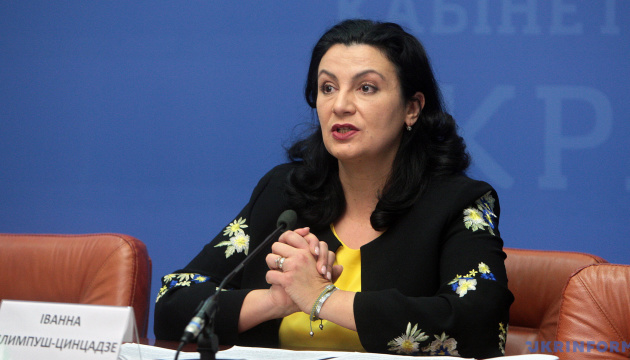 Hungary blocking important meetings with Ukraine's partners in NATO - Klympush-Tsintsadze
Hungary's blocking the European integration aspirations of Ukraine prevents the holding of a series of important meetings with its EU partners at the official level, Ukraine's Deputy Prime Minister Ivanna Klympush-Tsintsadze has said.
She said at a press briefing in Uzhgorod on Thursday, March 14, that Hungary would not stop blackmailing Ukraine even after it fulfills the recommendations of the Venice Commission, according to an Ukrinform correspondent.
"Now we see Hungary blocking a high level of dialogue between Ukraine and its European partners in NATO. It does not allow us to hold a series of official meetings. At the same time, we are grateful to all the partners in the Alliance that they find out how to organize these meetings in another way - either with Georgia in an official format or not in an official format. This testifies to how much the Alliance values political dialogue with Ukraine," Klympush-Tsintsadze said.
At the same time, she noted that Ukraine would like to hear fewer blackmailing statements from the Hungarian side as Ukraine has undertaken to comply with all the recommendations of the Venice Commission.
"We are working with our parliamentarians in order to comply with these conditions, in particular, to extend the implementation period of the law on education until 2023," she added.
Klympush-Tsintsadze also said that she had no clear conviction that after the state fulfills the conditions of the Venice Commission, Hungary would stop its pressure on Ukraine.
On September 25, 2018, President Petro Poroshenko signed the law on education, certain clauses of which, in particular, Article 7 regarding the language of instruction in Ukraine, aroused concern in a number of countries. Poroshenko instructed the Ministry of Foreign Affairs and the Ministry of Education and Science to hold consultations on this law with European partners, including the Council of Europe.
On September 28, Ukrainian Foreign Minister Pavlo Klimkin submitted Article 7 of the law on education for consideration by the Venice Commission.
On October 12, the Parliamentary Assembly of the Council of Europe (PACE) during a debate adopted a resolution on the Ukrainian law on education. The Ukrainian authorities, in particular, were urged to heed the remarks of the Venice Commission and think about a "more flexible model" of bilingual education, taking into account the interests of those who belong to indigenous peoples and national minorities.
The Ministry of Education and Science of Ukraine agreed with the Venice Commission's opinion on the language article of the education law. It considers it balanced and constructive, is ready to contribute to detailing Article 7 in the law on general secondary education, and also agrees with the recommendation to extend the transition period for implementation.
op