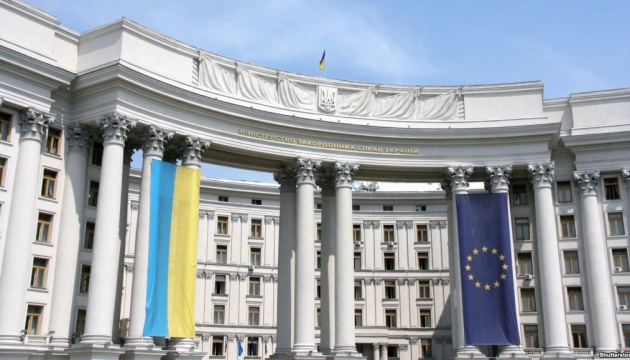 Ukraine's Foreign Ministry condemns French politicians' visit to occupied Crimea
The Foreign Ministry of Ukraine has strongly condemned the visit of a group of French politicians to illegally annexed Crimea.
The ministry said this in a statement posted on its official website on March 14.
"Having paid this unauthorized visit to the criminally annexed Ukrainian territory, French citizens have shown disrespect for the sovereignty and territorial integrity of Ukraine, ignoring the fundamental principles of the international law, Ukrainian legislation. They also have acted contrary to the official position of their own country, which strongly condemns the Russian attempt to annex to the Ukrainian peninsula," says the statement.
The Foreign Ministry has stated it considers actions of these French politicians as direct support for the aggressor in its "unacceptable policy of expansionism, intolerance and discrimination, militarization of Crimea, and creation of security threats in the region of the Black Sea and the Sea of Azov, as well as massive and systematic violations of human rights in the occupied Crimean peninsula."
At the same time, the Foreign Ministry has once again called on all foreign citizens to strictly adhere to the "Procedure for entry into and exit from the temporarily occupied territory of Ukraine." Perpetrators will be brought to responsibility in line with the legislation of Ukraine, the ministry added.
iy