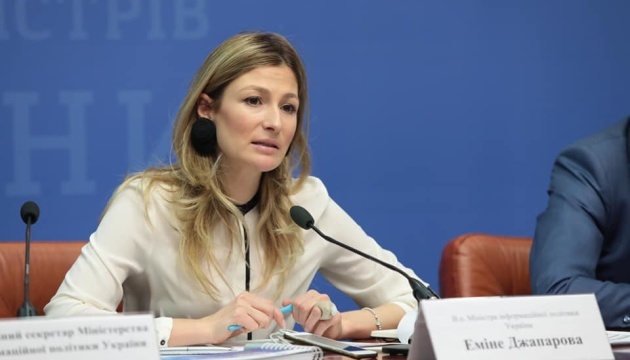 Crimea, Donbas strategies among key achievements of last year – Dzhaparova
The Information Policy Ministry called the approval of information integration strategies of Crimea and Donbas the past year's key achievements.
First Deputy Information Policy Minister Emine Dzhaparova said this at a press conference on Friday, an Ukrinform correspondent reported.
"The key achievements of 2018 regarding the occupied territories are, of course, the adoption of two important documents - the Information Reintegration Strategy for Donetsk and Luhansk Regions and the Information Reintegration Strategy for the Autonomous Republic of Crimea and the City of Sevastopol," Dzhaparova noted.
She noted that both strategies were fundamental documents, "which determine the semantic load of the communication campaigns of the Ministry."
"Within six months after the approval of these strategies, we must submit a draft plan of actions, which will be also coordinated. As for the strategy regarding Donbas - we have almost finalized the action plan. Now we are working on the action plan regarding Crimea," she added.
ish