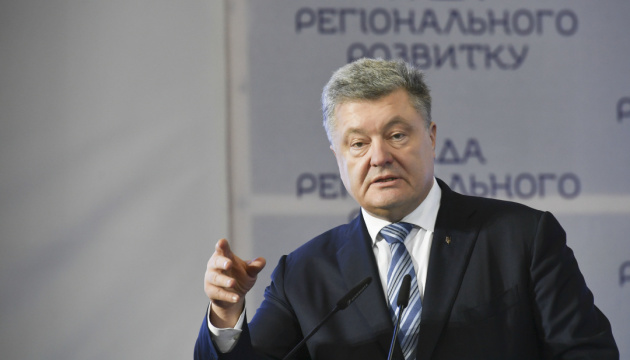 Qualitative changes promote Ukrainian idea into occupied territories – president
Qualitative changes in life and economic growth of the state will be able to promote a Ukrainian idea into the occupied territories.
President of Ukraine Petro Poroshenko said this during a speech at the Donetsk Regional Development Council on Friday, the press service of the head of state reported.
Before the meeting, the president attended the frontline and talked with soldiers of the 79th brigade. "Our fighters say that the attitude of locals towards our troops, our soldiers is getting better. They also say that people from the occupied territory come to them often and they have an opportunity to communicate with them constantly," he noted.
Poroshenko noted that he had asked about thoughts of the people coming from the temporarily occupied territory as they were under the influence of propaganda 24 hours a day. According to the servicemen, people from the occupied territories are disappointed in the "Russian world". "They say: "Yes, we come to Mariupol and see how Mariupol changed: new roads, new lighting, new schools, new hospitals, and new kindergartens. It is important. Imagine, soldiers there are walking on the streets without guns... They do not grab people and take them "to the basement", and there is no curfew, and they do not turn off the light," the president said.
"Thus, through the stories of ordinary persons, you understand what a huge chasm separates life in the occupied territory and life in the liberated territory, life in Mariupol," he noted.
"And with such example, we can today promote the Ukrainian idea in the occupied territories - I want to thank everyone who works in Mariupol for the implementation of this scenario. Thank you very much," the head of state stressed.
ish