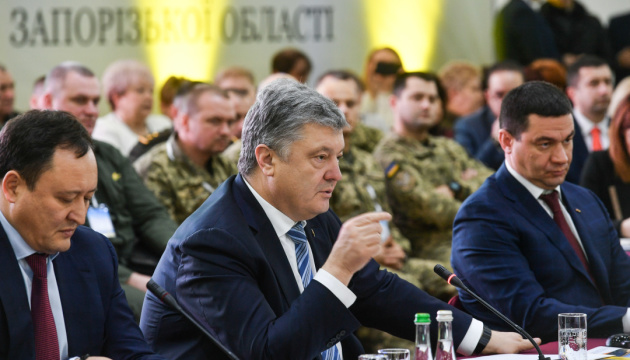 Poroshenko: EU considering concrete options of support for Sea of Azov region
The European Union is considering the options of concrete measures to support the Sea of Azov region, which were put forward after Russia's aggression in the Kerch Strait.
"Based on the results of the assessment mission visit, the EU is considering options of concrete measures to support the Sea of Azov region. It is a right response to the aggressive actions of Russia in the Sea of Azov region," President of Ukraine Petro Poroshenko said at the Zaporizhzhia Region Development Council meeting, an Ukrinform correspondent reports.
The President recalled that after the act of aggression in the neutral waters of the Black Sea and the blockade of Ukrainian ports, he instructed the Ministry of Foreign Affairs, the First Vice Prime Minister - Minister of Economic Development and Trade, and the governors of the regions to propose the projects of support for the Sea of Azov region. According to him, the EU intends to approve a number of projects.
"In particular, these projects concern Zaporizhzhia region in the area of the towns of Berdiansk and Melitopol, they relate to road construction, infrastructure projects, assistance to IDPs and other areas that minimize the consequences of Russian aggression," the Head of State said.
As reported, on November 25, 2018, Russian border ships fired on and seized in the Kerch Strait three Ukrainian naval vessels that were moving from Odesa to Mariupol. Twenty-four Ukrainian sailors were captured. They were charged with illegally crossing Russia's border in the Black Sea. All captured sailors called themselves prisoners of war.
ol