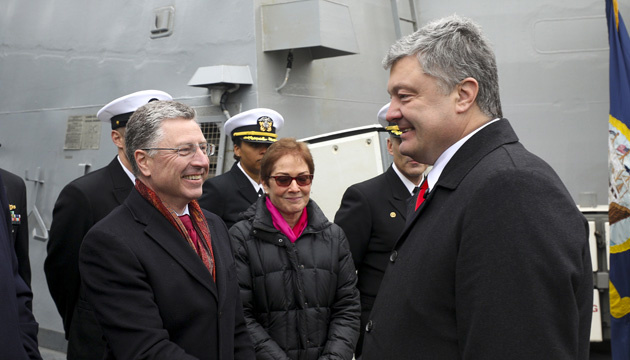 Poroshenko highly appreciates increase in American military presence in Black Sea 
President of Ukraine Petro Poroshenko visited the US Navy destroyer Donald Cook in Odesa, where he met with U.S. Special Representative for Ukraine Negotiations Kurt Volker.
During a meeting with Volker, the Head of State noted that the visits of American ships were a vivid demonstration of cooperation between Kyiv and Washington, the press service of the President of Ukraine reports.
"It is a legendary ship. It is an important signal to the Kremlin on the fifth year of occupation. This signal conveys that Crimea is Ukrainian, the freedom of navigation in the region will be ensured as guaranteed by the United Nations Convention on the Law of the Sea, and the Ukrainian-American partnership is stronger than ever. We effectively cooperate in all spheres, including defense," Poroshenko stressed.
The Head of State also emphasized he appreciated the fact that the American partners increased the military presence in the Black Sea in response to Ukraine's request. "It is an important answer to the unprovoked attack and the act of aggression against Ukrainian ships, which took place on November 25 last year. The Kremlin's aggression, I want to emphasize, affects not only the vital interests of Ukraine. It also affects the security of the EU, NATO in the Black Sea," the President underscored.
He also added that the current U.S. investment in Ukraine's security was a vivid confirmation of investment in the security of the entire region and the whole world.
In turn, U.S. Special Representative for Ukraine Negotiations Kurt Volker, who is on a working visit to Odesa, emphasized that the United States of America strongly supported the independence, sovereignty and territorial integrity of Ukraine. "We are here as your good partners and friends. Maintaining freedom of navigation is also important for us," he said.
Volker reminded that the United States condemned the Russian attack on Ukrainian sailors in the Kerch Strait and called for the release of Ukrainian seamen illegally imprisoned in Russia.
ol