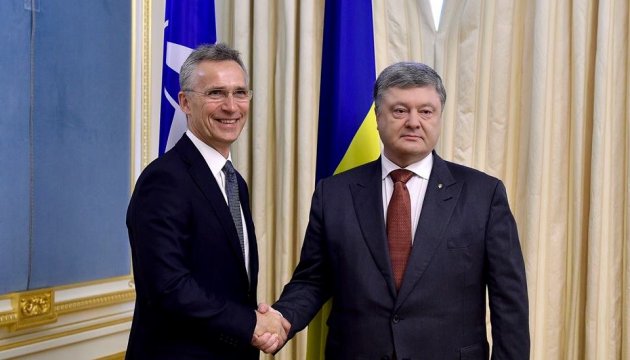 Poroshenko, Stoltenberg discuss Ukraine-NATO cooperation for coming years
President of Ukraine Petro Poroshenko held a meeting with NATO Secretary General Jens Stoltenberg in Munich on Friday, the press service of the head of state has reported.
During the meeting, the parties discussed the issues of Ukraine's cooperation with the North Atlantic Alliance for the coming period.
The president noted that this was the first meeting with Jens Stoltenberg after Ukraine had approved the decision to consolidate the course for the EU and NATO membership in the Constitution of Ukraine.
"Today's meeting with the Secretary General was the first after the Verkhovna Rada had supported the president's proposals regarding the amendments to the Constitution of Ukraine in the part of NATO and the EU. And in this new reality, we have discussed with Jens Stoltenberg the vectors of cooperation Ukraine will have with NATO in the coming years," Poroshenko said, noting that meetings with the leadership of the Alliance traditionally take place in the framework of the Munich Security Conference.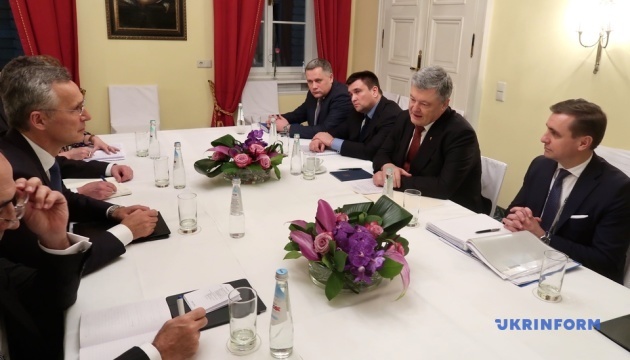 "It's about the ambitions regarding the Membership Action Plan, the annual national programs, the development of bilateral cooperation on security improvement in all directions - from cybersecurity to the capabilities of Ukraine's defensive weapons," the president said.