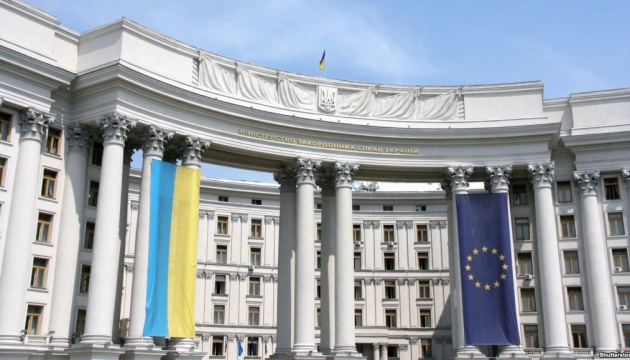 UNGA will show world's attitude to Russia's occupation of Crimea and Donbas - MFA
Ukraine's Ministry of Foreign Affairs (MFA) hopes that the international community will demonstrate support to Ukraine in its struggle to restore territorial integrity during a session of the UN General Assembly on February 20.
MFA spokesperson Kateryna Zelenko said this at a briefing on Tuesday, February 12, an Ukrinform correspondent reported.
"I think that the world community will clearly demonstrate its attitude to the Russian position [with respect to the convening of a UN Security Council meeting] on February 20, when the UN General Assembly will discuss the situation in the occupied territories of Ukraine. We hope to hear a lot of statements there by UN member states in support of Ukraine," Zelenko said.
She recalled that Ukraine had initiated the inclusion of this issue in the agenda of the UN General Assembly meeting.
"In fact, the discussion and debate regarding the situation in occupied territories has been included in the agenda of the General Assembly session for the first time. This will be a reliable platform that will demonstrate how the world community is ready to support Ukraine after the adoption of the General Assembly resolution at the end of last year on the situation with the ensuring of human rights in Crimea and militarization of Crimea. This will be an additional signal from our international partners in support of Ukraine in restoring its sovereignty over occupied territories and ending aggression," she said.
As was reported earlier, Russia initiated the holding of a UN Security Council meeting on the situation in Ukraine on February 12 under the pretext of the fourth anniversary of the signing of the Minsk agreements.
Spokesman for the Permanent Mission of Ukraine to the United Nations Oleh Nikolenko said that the real purpose of the initiative was to divert attention from a special meeting on February 20 dedicated to the fifth anniversary of Russian aggression against Ukraine.