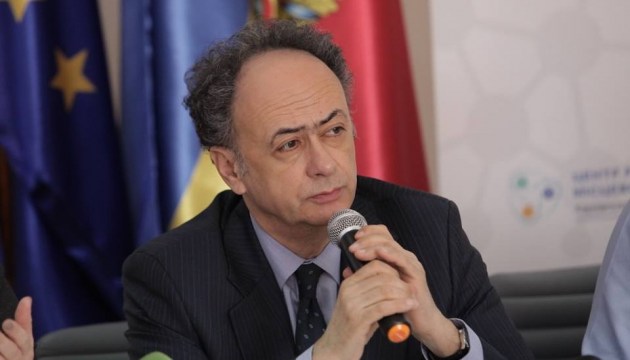 Mingarelli: Ukraine is one of EU's main partners now
Ukraine is a European country with a huge economic and social potential. Therefore, it could one day apply to join the EU, and this choice of the Ukrainian people should be respected.
"The EU's treaty is clear. Any European country – and Ukraine is a European country – which fulfils a number of criteria related to rule of law and freedom, can apply to the EU. And, therefore, Ukraine, being a European country without any doubt, could one day apply to join the EU," Head of the EU Delegation to Ukraine Hugues Mingarelli said in an interview with the Business Planet program on Euronews.
It is extremely important for the EU to have a stable and prosperous neighbor, therefore, there is nothing surprising in the fact that Ukraine is today one of the main partners of the European Union, Mingarelli stressed.
"It is our interest and our duty to ensure that the living conditions of the Ukrainian people can improve in the next few years and that their choice as regards a kind of society that would like to live in be respected," he added.
He reminded that the cornerstone of the EU-Ukraine bilateral relations is the Association Agreement, which includes Deep and Comprehensive Free Trade Area, and the objective of this agreement is to promote the gradual integration of the Ukrainian economy into the EU's single market.
According to Mingarelli, this means that through the harmonization of the legislation all non-tariff barriers to trade between the EU and Ukraine will be removed soon. Today, the EU is the biggest trade partner of Ukraine as more than 40% of Ukrainian exports are going to the EU markets. "In the near future, thanks to the implementation of the Deep and Comprehensive Free Trade Area, we are confident that there will be deepening and strengthening of the investment relations between the EU and Ukraine," the EU's ambassador to Ukraine noted.
"Ukraine has huge potential for investors because this country has an exceptionally skilled labour force. They have an exceptional industrial tradition. This is a country which produces aircraft engines, satellites, rockets. This is a country which has the best agricultural land on our continent. This is a country with fantastic touristic potential. So the potential is exceptional. This country has a lot of assets. We have to help the Ukrainian people better benefit and exploit these assets," Hugues Mingarelli summed up.