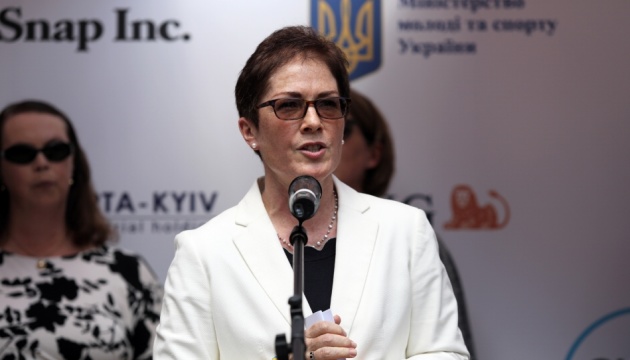 U.S. hopes elections in Ukraine will be held without hired thugs
U.S. Ambassador to Ukraine Marie Yovanovitch has said she hopes that the 2019 elections in Ukraine will be held calmly and that people engaged in election campaigns should not be afraid of persecution.
She stated this at the Ukrainian Leadership Academy, the press service of the U.S. Embassy in Kyiv reported.
"As the presidential elections season moves forward, we in the U.S. share the expectations of the Ukrainian people. That 'titushki' [hired thugs] won't be a part of those elections, that campaigns' staff should not be worried about getting beaten up or harassed, that money doesn't buy votes in the villages, that disinformation is not used by the Russians or any other candidates to undermine the truth. And that full participation by all Ukrainian citizens is facilitated," Yovanovitch said.
According to her, ensuring average citizens have a say in how their communities are governed and how their tax dollars are spent is also critical in successful Western democracies. Decentralization has been one of the most consequential reforms in Ukraine during the past five years, she added.
She said that by providing real resources directly to local governments, decentralization has helped to start to create a local democracy for the first time in Ukraine since the days of the Cossacks.
"As I've traveled across the country, I've seen firsthand the profound effect decentralization is starting to make – and will continue to make – on Ukraine's future," the ambassador said.