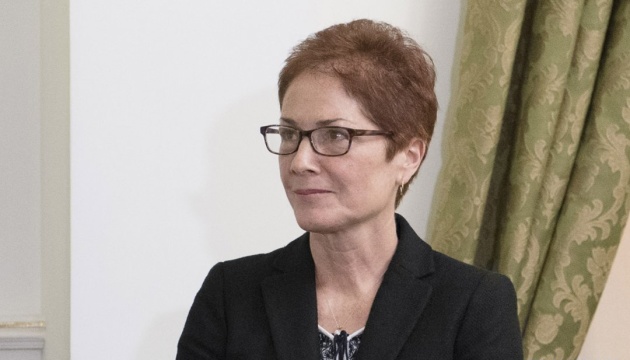 Ukraine must fully empower its anti-corruption institutions – U.S. ambassador
Ukraine must fully empower its anti-corruption institutions, U.S. Ambassador to Ukraine Marie Yovanovitch has said.
"Ukraine must continue to pursue economic reforms in line with European standards and fully empower all of its anti-corruption institutions. I say this as a friend and as a representative of a country that I believe is Ukraine's best partner. If Ukraine fails to do this, the country's economy will continue along the path it has been on for the first two and a half decades," the press service of the U.S. Embassy in Kyiv quoted Yovanovitch as saying at the Ukrainian Leadership Academy.
According to her, successful anti-corruption reforms are critical for the development of the country. Only empowered, independent anti-corruption institutions can apply the law equally to all citizens, regardless of their wealth or power, she said. According to the ambassador, with proper support and leadership, these institutions – the Specialized Anti-Corruption Prosecutor's Office, the National Anti-Corruption Bureau, and the High Anti-Corruption Court, which is being set up now – can ensure that those who break the law – no matter who they are or who they know – will be investigated, prosecuted, and punished.
"But we can see what is happening when elites across the political and economic spectrum undermine NABU, roll back good corporate governance at state-owned enterprises, hinder the privatization of state-owned enterprises, give preferential treatment to businesses and individuals with connections, and create an inhospitable environment for civil society activists and journalists," she said.
Yovanovitch noted that these actions undermine Ukraine's economic and political development and they undermine Ukraine's security, because the more vulnerable an individual or institution is to corruption, the weaker that society, the weaker that democracy.