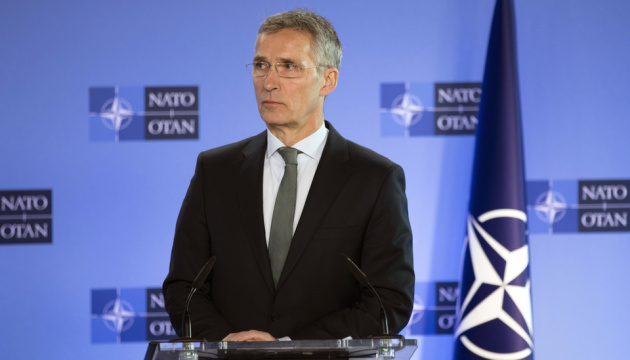 Stoltenberg: Release of Ukrainian sailors could settle Kerch crisis
The release of Ukrainian sailors, who were captured as a result of Russia's aggression in the Kerch Strait, could be the best step towards de-escalating the situation in the region.
NATO Secretary General Jens Stoltenberg made such a statement during a press conference following the NATO-Russia Council meeting on January 25.
"The incident in the Kerch Strait, when Russia used violence against the Ukrainian Navy ships, seized ships and sailors, was one of the main talking points at the meeting. The Allies called on Russia to release the sailors immediately as it would be the most effective way to de-escalate the situation and would allow easing the tensions in and around Ukraine, especially in the Black Sea region," the NATO Secretary General said, when asked by an Ukrinform correspondent whether the progress was reached on ensuring the freedom of navigation in the Sea of Azov and on the efforts to liberate captured Ukrainian sailors.
As Stoltenberg noted, the NATO member states once again called on Russia to ensure freedom of navigation and expressed support for the territorial integrity and sovereignty of Ukraine, including its territorial waters.
"It was one of the main issues. Many of the Allies expressed their concern, saying that a combination of the illegal annexation of Crimea and the construction of the [Kerch] bridge testifies to the fact that Russia is trying to disrupt the freedom of navigation in the Sea of Azov," the NATO Secretary General added.
As reported, the PACE adopted the resolution titled "The escalation of tensions around the Sea of Azov and the Kerch Strait and threats to European security" in Strasbourg on Thursday.
On November 25, 2018, Russian border ships fired on and seized in the Kerch Strait three Ukrainian vessels that were heading from the port of Odesa to the port of Mariupol. A total of 24 Ukrainian sailors were captured. They currently stay in Moscow's remand prisons. All of them declared themselves the prisoners of war.