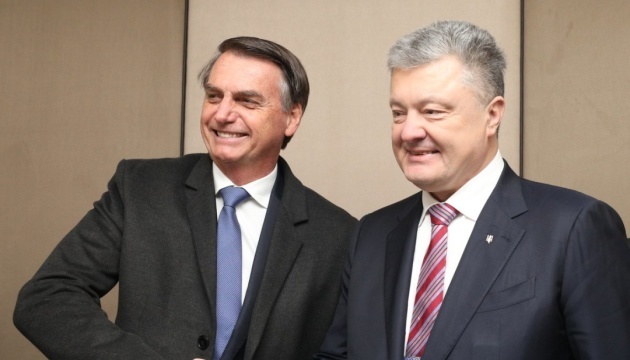 Poroshenko invites Brazil's new president to visit Ukraine
President Petro Poroshenko has invited new President of Brazil Jair Bolsonaro to visit Ukraine.
The presidents met within the framework of the World Economic Forum in Davos on Thursday, the press service of the Ukrainian president reported.
The parties emphasized the importance of restoring full-scale bilateral cooperation in all areas of mutual interest.
The presidents discussed prospects of intensification of trade and economic cooperation, first of all in military and technical, investment, energy, scientific-technical and other spheres. They also agreed to hold a regular meeting of the Intergovernmental Commission on Trade and Economic Cooperation in the near future.
The parties confirmed interest in restarting a number of industrial, energy, infrastructure and other projects suspended by the previous administration of Brazil.
The sides stand for the need to increase the level of coordination between the two countries in the framework of international organizations, first of all the United Nations.
Brazil's new president supported the independence, sovereignty and territorial integrity of Ukraine.
Petro Poroshenko and Jair Bolsonaro noted the importance of contribution of the Ukrainian community of Brazil to the development of friendship and strategic partnership between Ukraine and Brazil.
As reported, President of Ukraine Petro Poroshenko makes a working visit to Davos, Switzerland, on January 23-24, where he holds a series of bilateral meetings and will chair the meeting of the National Investment Council.