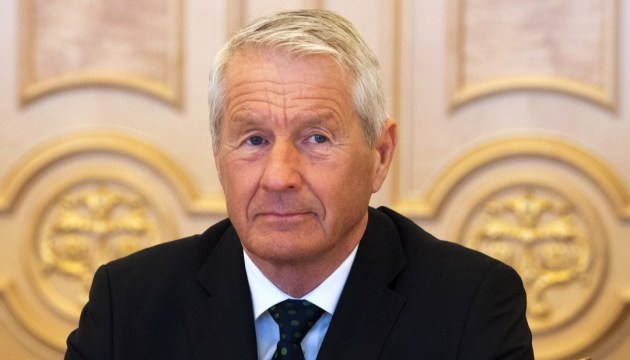 Ukrainian delegation to PACE comments on meeting with Jagland
The Verkhovna Rada's delegation to the Parliamentary Assembly of the Council of Europe held a meeting with Secretary General of the Council of Europe Thorbjørn Jagland, but it was decided not to disclose details of the meeting.
Chairperson of the Ukrainian delegation to PACE Volodymyr Ariev stated this on Wednesday, according to own Ukrinform correspondent in Strasbourg.
"We discussed very important issues, but decided that the content of the meeting would remain in the negotiation room. We really appreciate this dialogue and hope that it will be maintained," said Ariev.
In turn, Secretary General of the Council of Europe Jagland stated that the parties had discussed many vital issues with the delegation of Ukraine, which is an important country in the Council of Europe, and had an open dialogue.
Ukrainian MP Leonid Yemets also didn't disclose details but noted that the discussion with the Secretary General of the Council of Europe included the release of Ukrainian sailors and political prisoners held in the Russian Federation.
In addition, according to Yemets, the parties during the meeting discussed the strategic issues regarding Russia's possible return to PACE, sanctions against the Russian delegation, as well as the language issue in the Ukrainian legislation on education.