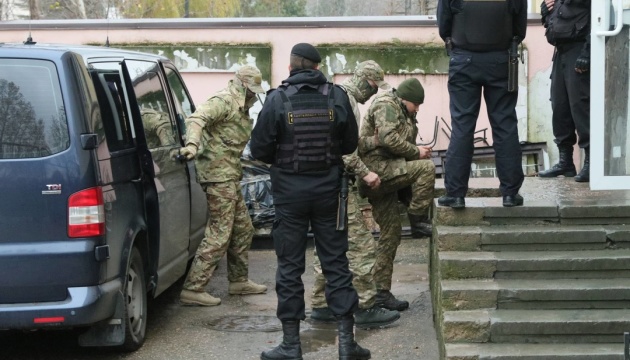 Moscow's court denies motions filed by lawyers of captured Ukrainian sailors
A court in Moscow denied the motions filed by the lawyers of captured Ukrainian sailors on changing jurisdiction to a military court in accordance with the Geneva Convention.
"Currently, the Lefortovsky court [in Moscow] is considering a motion of the investigation of the Investigations Directorate of the Federal Security Service of Russia on the extension of pre-trial restrictions for eight Ukrainian sailors... [the motion of lawyers] on letting the sailors sit next to their lawyers was denied... [the motion] on changing the jurisdiction to a military court in accordance with the Geneva Convention was denied," lawyer Oleg Yeliseyev posted on Facebook.
One motion was sustained. The relatives of the prisoners of war were allowed to enter a courtroom to see the sailors. These eight captured Ukrainian sailors are: Mokriak, Oprysko, Semydotsky, Tsybyzov, Tereshchenko, Holovash, Popov, and Shevchenko.
As reported, the Lefortovsky District Court of Moscow holds the hearing on extension of the arrest of Ukrainian sailors and employees of the Security Service of Ukraine, who were captured in the Kerch Strait, behind the closed doors.
On November 25, 2018, Russian border ships fired on and seized in the Kerch Strait three Ukrainian vessels that were moving from the port of Odesa to the port of Mariupol. A total of 24 Ukrainian sailors were captured.
Russian-controlled "courts" in occupied Crimea arrested all sailors for two months, and they were taken to Moscow.
At present, 21 Ukrainian servicemen are in Moscow's Lefortovo remand prison, and three more wounded sailors stay in the Matrosskaya Tishina remand prison.
The coordinator of the team of lawyers, Nikolai Polozov, said that all Ukrainian sailors captured by Russia told investigators that they are prisoners of war.