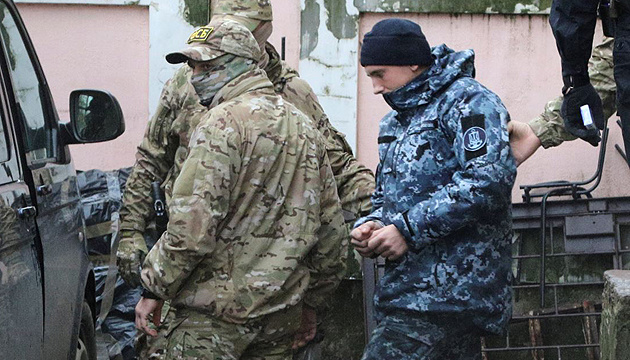 Moscow's court holds hearing on extension of arrest of captured Ukrainian sailors behind closed doors
The Lefortovsky District Court of Moscow holds the hearing on extension of the arrest of Ukrainian sailors and employees of the Security Service of Ukraine, who were captured in the Kerch Strait, behind the closed doors.
"The court decided to examine an investigator's motion behind the closed doors," the judge said, TASS Russian news agency reports.
Earlier, the Federal Security Service of the Russian Federation asked the court to hold the hearings in the case of Ukrainian sailors behind the closed doors.
In turn, the team of lawyers of the Ukrainian sailors demanded open and transparent court hearings that meet the principles of publicity in the legal proceedings. "The representatives of the media, the foreign embassies, Ukrainian Parliament Commissioner for Human Rights Liudmyla Denisova and the relatives of captured sailors must be allowed to attend the hearings," stated Nikolai Polozov, the coordinator of the team of lawyers.
As reported, on November 25, 2018, Russian border ships fired on and seized in the Kerch Strait three Ukrainian vessels that were moving from the port of Odesa to the port of Mariupol. Twenty-four Ukrainian sailors were captured.
Russian-controlled "courts" in occupied Crimea arrested all sailors for two months, and they were taken to Moscow.
At present, 21 Ukrainian servicemen are in Moscow's Lefortovo remand prison, while three more wounded sailors are held in the Matrosskaya Tishina remand prison.