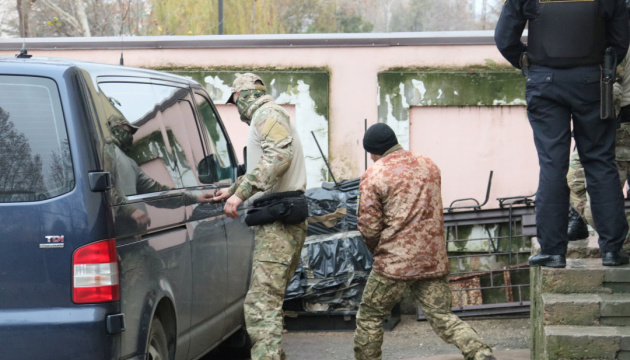 Russia's FSB asks court to extend arrest of captured Ukrainian sailors
The Lefortovsky District Court of Moscow will consider a motion filed by the Russian Federal Security Service (FSB) on extension of the period of detention of the captured Ukrainian Navy sailors until April 26.
"At 10:00 Moscow time on January 15, the Lefortovsky District Court of Moscow will consider the motion of the investigation, which asks to extend the arrest of the sailors until April 26," a representative of the court told the TASS Russian news agency.
As reported, on November 25, 2018, Russian border ships fired on and seized in the Kerch Strait three Ukrainian vessels that were moving from the port of Odesa to the port of Mariupol. Twenty-four Ukrainian sailors were captured.
Russian-controlled "courts" in occupied Crimea arrested all sailors for two months, and they were taken to Moscow.
At present, 21 Ukrainian servicemen are in Moscow's Lefortovo remand prison, while three more wounded sailors are held in the Matrosskaya Tishina remand prison.
The coordinator of the team of lawyers, Nikolai Polozov, said that all Ukrainian sailors captured by Russia told investigators that they were the prisoners of war.
On January 7, Ukraine filed a lawsuit against Russia with the European Court of Human Rights over the violation of the rights of detained Ukrainian sailors.