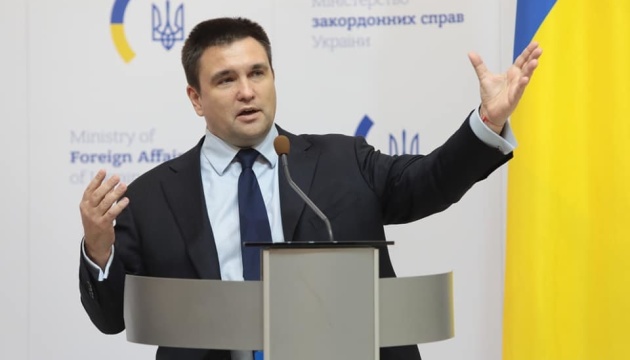 Ukraine invites partners to 'trials' of captive sailors in Russia
The Ukrainian Foreign Ministry is working to ensure the presence of foreign partners in Moscow's "trials" of Ukrainian prisoners of war on extending measures of restraint for them, Foreign Minister Pavlo Klimkin has said.
He said this at a briefing on Wednesday, January 9, an Ukrinform correspondent reported.
"On January 17-18, Russia will try to hold meetings of its illegitimate trials. We are now working to ensure that our guys be given all possible support and that representatives of our friends and partners be also present at these 'trials'," Klimkin said.
He said that Ukraine had now activated "absolutely all our friends and partners, as well as all who in principle can help" release captive Ukrainian sailors.
"I have already said that Russia will try to use political prisoners and hostages as a certain commodity to influence our electoral process. [...] Therefore, we need a truly coordinated position for all of our partners, on which we are constantly working. Any conversation with our partners begins precisely with prisoners of war and political prisoners," Klimkin said.
On November 25, 2018, Russian border ships fired on and seized in the Kerch Strait three Ukrainian vessels that were moving from the port of Odesa to the port of Mariupol. A total of 24 Ukrainian sailors were captured.
Russian-controlled "courts" in occupied Crimea arrested all sailors for two months, and they were taken to Moscow.
At present, 21 Ukrainian servicemen are in Moscow's Lefortovo prison, and three more wounded sailors stay in the Matrosskaya Tishina prison.
The coordinator of the team of lawyers, Nikolai Polozov, said that all Ukrainian sailors captured by Russia told investigators that they are prisoners of war.
On January 7, Ukraine filed a lawsuit against Russia with the European Court of Human Rights over the violation of the rights of detained Ukrainian sailors.