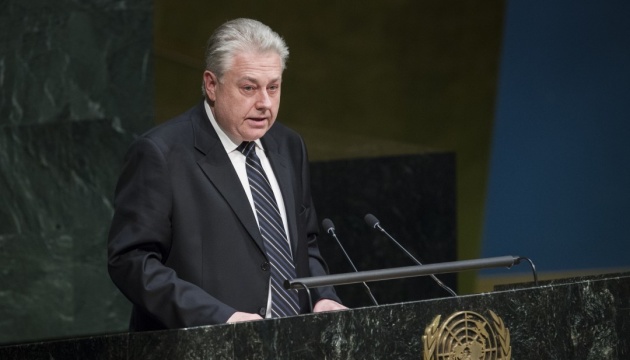 UN General Assembly debate on Ukraine set for February - Yelchenko
The UN General Assembly tentatively plans to hold a special debate on Ukraine in late February 2019, and this time, which coincides with the anniversary of a Russian attack on Ukraine, was deliberately chosen to recall the causes of Russian aggression.
Ukraine's Permanent Representative to the UN Volodymyr Yelchenko said this in an interview with an Ukrinform correspondent.
"A special debate on this issue [the situation in the temporarily occupied territories of Ukraine] is scheduled for the end of February next year," the diplomat said.
Yelchenko added that the possibility of scheduling such a debate arose due to the inclusion last autumn in the General Assembly's agenda for 2019 of a separate point devoted to Ukraine.
"Every time we wanted to raise a certain question in the General Assembly, we were asked: 'Under which point?' There are also general points that could be used - maintaining peace and security, peaceful settlement of conflicts [...] But they all are generalized. It was very important for us to have a specific point that clearly applies to the occupied territories of Ukraine - Crimea and Donbas. Now we have it," the diplomat said.
He noted that the decision to include this point was not very pleasant to the Russian delegation, which tried hard to stop it.
"We got the adoption of this decision through the so-called General Committee of the General Assembly, which approves the agenda for the whole next year. Of course, there was resistance from Russia. It was difficult. After all, this is an additional irritant for Russians. They did not like it very much," Yelchenko said.
At the same time, he specified that it was not yet known whether any decisions will be taken after the debate, however, he did not exclude such a possibility.
"We have not yet thought of a draft decision. We'll see. Perhaps, we will first hear what other delegations say in the hall of the General Assembly, and then we will submit a certain draft decision," Yelchenko said.
According to him, the debate is scheduled for the end of February not accidentally, because it is a good opportunity to recall the causes and essence of Russian aggression.
"Those days will mark the fifth anniversary of the beginning of the conflict. It will be a good opportunity to refer to history - why, in fact, Russian aggression began, its causes and consequences, an analysis of the events that took place over these five years," he said.