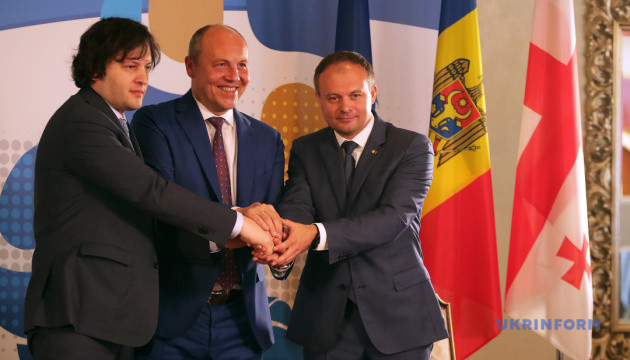 Ukraine, Moldova, Georgia to counter hybrid threats
The heads of the parliaments of Ukraine, Moldova and Georgia, Andriy Parubiy, Andrian Candu and Irakli Kobakhidze, have signed a joint declaration on uniting efforts to combat hybrid threats, the press service of the Moldovan parliament has reported.
According to the report, the document was signed on the initiative of the Moldovan side, Ukrinform's correspondent in Moldova said.
"The parliaments of Moldova, Ukraine and Georgia undertake, in accordance with national legislation, to create special centers that will collect, analyze and disseminate information about existing hybrid threats. In addition, the legislative bodies of the three countries express their desire to join (as participants or observers) the European Center [of Excellence for Countering Hybrid Threats] and other European organizations to combat hybrid threats," the document reads.
The declaration notes that hybrid threats are aimed at undermining the foundations of democracy, being sources of threats to energy, defense and transport systems, as well as to food security and the financial system.
The document pays particular attention to the fact that the global hybrid campaign unfolded after Russia's aggression against Ukraine in the Kerch Strait on November 25 this year.
The speakers of the parliaments of Moldova, Ukraine and Georgia expressed hope that the EU and the United States would provide support in the fight against hybrid threats and in order to consolidate security in the region.