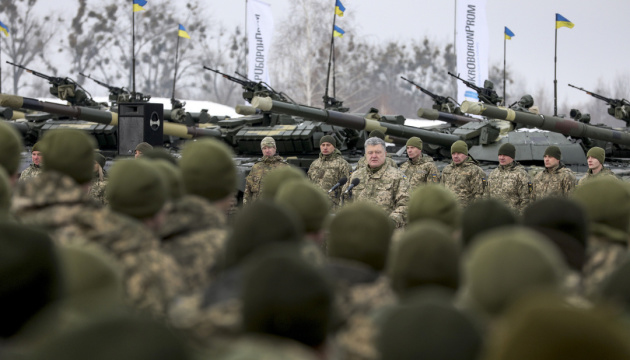 President Poroshenko announces termination of martial law
President Petro Poroshenko has announced the termination of the legal regime of martial law in ten regions of Ukraine.
He made the announcement at a meeting of the National Security and Defense Council of Ukraine on Wednesday, an Ukrinform correspondent reports.
"Today, now at 14:00, the martial law is terminated. This is my principled decision, it is based on the analysis of all components of current security situation in the state," Poroshenko said.
At the same time, he stressed that the situation around Ukraine "has not changed much."
As reported, on November 25, Russian border ships committed the acts of aggression against three Ukrainian ships heading from the port of Odesa to the port of Mariupol. The Russian special forces fired and seized three Ukrainian ships in the Kerch Strait and 24 sailors aboard.
In this regard, the National Security and Defense Council of Ukraine suggested that President Poroshenko should introduce martial law for 60 days.
Poroshenko signed a decree to enact the Council's decision on the introduction of martial law in Ukraine for 60 days - from November 26 to January 25, but later said that he would recommend introducing the martial law for 30 days not to affect the start of election campaign scheduled for December 31.
On November 26, the Verkhovna Rada of Ukraine passed a law approving the decree of the President of Ukraine on the introduction of martial law for 30 days in ten regions located along Ukraine-Russia border and Ukraine-Moldova border along the Black Sea and the Sea of Azov: in Vinnytsia, Luhansk, Mykolayiv, Odesa, Sumy, Kharkiv, Chernihiv, Kherson regions as well as in the inland waters of the Azov-Kerch water area.
Martial law was introduced from 14:00 on November 26, 2018 until 14:00 on December 26, 2018.