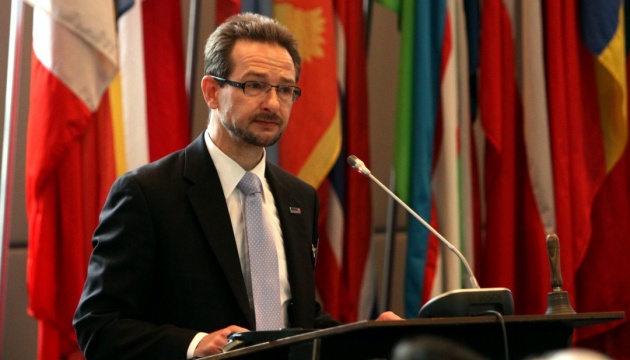 OSCE Secretary General fears possible escalation in Ukraine
The situation in eastern Ukraine, as well as on the sea, could escalate any moment and become much more dangerous as Russia does not intend to stop supporting the separatists and is not ready to make concessions.
"I fear there may be a chain reaction. The situation is intentionally or unintentionally exacerbated where they have different hot spots (of conflict), where a flame is smoldering. For example, some hot spots can cause a huge fire. If the rebel republics fall under military pressure, they will again receive support from Russia," OSCE Secretary General Thomas Greminger said in an interview with the Neue Osnabrücker Zeitung.
He called the unsolved problems of the occupied Crimea, illegal elections in two "republics" and the situation along the contact line in Donbas among such "hot spots", mentioning also the legislation on language and education and aiming for the independent Ukrainian Orthodox Church. The provocations from both sides occur again and again along these rupture lines, Greminger noted.
The recent events in the Sea of ​​Azov and the Kerch Strait, the OSCE Secretary General said, fit into a broader picture of Ukraine-Russia relations. The release of 24 Ukrainian sailors and return of three captured ships could be a Russia's goodwill gesture, Greminger said. However, he does not see the political will for reconciliation. This applies both to the negotiations in Minsk and within the Normandy format. In particular, as the OSCE meeting in Milan showed, "Lavrov has very clear instructions not to make any concessions."
Greminger positively assesses the role of his organization and the monitoring mission. "We are coping well with the conflict in eastern Ukraine, making sure it does not escalate," he said.