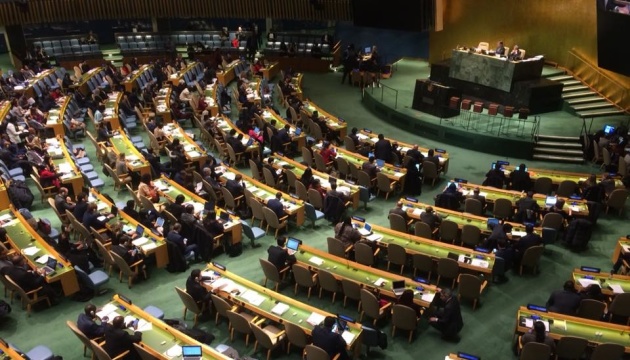 UN General Assembly adopts new resolution on human rights situation in Crimea
December 22, the UN General Assembly adopted the resolution A/C.3/73/L.48 "Situation of human rights in the Autonomous Republic of Crimea and the city of Sevastopol, Ukraine."
Sixty-five UN member states voted for the resolution, 27 member states voted against; 70 abstained, an Ukrinform correspondent reported from New York.
It is already the third UN resolution on situation of human rights in Crimea, which has been initiated by Ukraine over the past three years. The first two were adopted by the General Assembly in 2016 and 2017. This year, the document contains a number of new articles. For example, it clearly defines how Crimea should be referred to correctly in all the UN documents.
"[The UN General Assembly] calls upon all international organizations and specialized agencies of the United Nations system, when referring to Crimea in their official documents, communications and publications, including with regard to statistical data of the Russian Federation, to refer to 'the Autonomous Republic of Crimea and the city of Sevastopol, Ukraine, temporarily occupied by the Russian Federation'," reads the resolution.
The resolution on the militarization of Crimea, which was adopted on December 17, called on Russia to withdraw its troops from Crimea. The current resolution also urges to return Crimea to Ukraine.
"Affirming that the seizure of Crimea by force is illegal and a violation of international law, and affirming also that those territories must be returned," reads the document's preamble.
The resolution focuses on political prisoners, persecution of Ukrainian and Crimean Tatar activists in Crimea, torture and illegal detention, abductions of residents of Crimea, extrajudicial killings, persecution of religious minorities, restrictions on freedom of conscience, freedom of speech. The UN condemns these and other human rights violations committed by Russia in the occupied Ukrainian peninsula and highlights that Russia has not fulfilled the requirements of the two previous resolutions, and the situation has only worsened since then.
The resolution also for the first time requests the UN Secretary-General to take all steps necessary to ensure the full and effective coordination of all United Nations bodies with regard to the implementation of the present resolution.