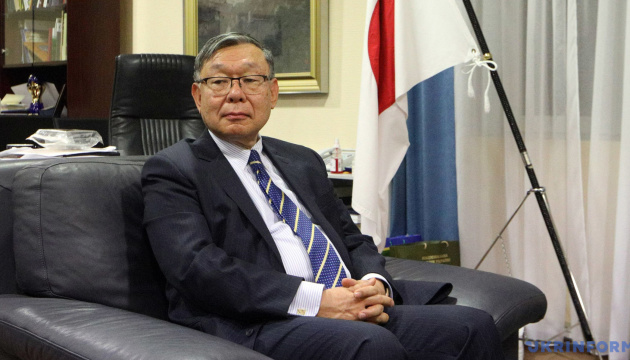 G7 ambassadors meet twice a month to discuss Ukraine – Japanese ambassador
The G7 Ambassadors Support Group for Ukraine meets regularly twice a month, and sometimes more often, to discuss reforms in Ukraine, Japanese Ambassador to Ukraine Shigeki Sumi has said.
He said this in an interview with Ukrinform.
"The G7 Ambassadors Support Group for Ukraine was set up in June 2015 at the summit of the G7 leaders in Elmau (Germany) in accordance with the agreement of the heads of state. The group's goal is to support efforts to promote reforms in Ukraine. Now, G7 ambassadors meet regularly twice a month, and if necessary, they meet more often to discuss how we can help Ukraine in those areas that require our help," Sumi said.
According to him, Ukrainians see the statements of the G7 ambassadors as a result of discussion, but, in fact, they meet and discuss with the people responsible for carrying out various reforms.
"For example, when new judges of the Supreme Court were elected, there was a time when the parties could not reach consensus. Then the ambassadors met with the parties, figured out the situation and gave advice on how to select judges faster, based on the experience of each of the countries," the ambassador said.
When asked by Ukrinform how the ambassadors agree on positions if they have different views, Sumi said that due to similar values such differences are rare in the G7 countries.
"Fortunately, the positions of all G7 member states are based on democracy, a free economy and human rights protection, so there is no significant difference in opinion. Of course, insignificant cases of disagreement do happen, for example, with the ways of publishing our vision. More specifically, in order to solve a problem, one country is inclined to make a statement and the other wants a discussion with respective persons, the so-called silent diplomacy," he said.
Sumi added that in this case, mostly, they first meet, conduct silent diplomacy and then publish a statement by ambassadors.
"There has never been a case where countries had a fundamental disagreement on a certain issue of reform," the ambassador said.