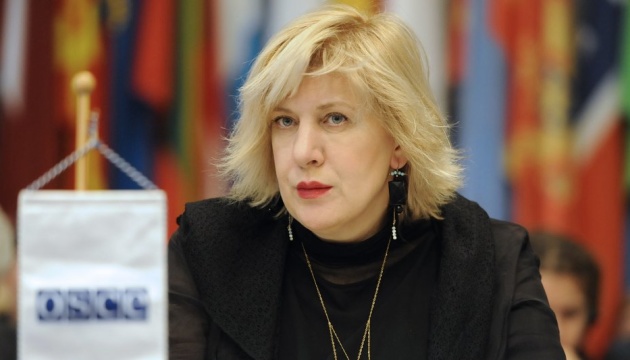 Ukraine calls on Dunja Mijatovic to help release Kremlin's prisoners
The Permanent Representative of Ukraine to the International Organizations in Vienna, Ihor Prokopchuk, has called on Council of Europe Commissioner for Human Rights Dunja Mijatovic to help release Ukrainian prisoners.
The Ukrainian diplomat made a corresponding appeal during a meeting of the OSCE Permanent Council in Vienna on Thursday, an Ukrinform corresponden reported.
"We urge Commissioner Dunja Mijatovic to use all available tools to facilitate the immediate release of Ukrainian citizens imprisoned by Russian authorities on fabricated charges in the Russian-occupied territories of Ukraine and in Russia itself," Prokopchuk said in response to a report by the Council of Europe Commissioner for Human Rights.
Prokopchuk noted that the fate of these Ukrainians should be in focus of the OSCE and the Council of Europe. "Among them are Oleg Sentsov, Oleksandr Kolchenko, Volodymyr Balukh, Roman Sushchenko, Pavlo Hryb and more than 70 other Ukrainians who are political prisoners in Russia," he said.
Prokopchuk also stressed that instead of restoring respect for international obligations Russia chose the option of further complicating the situation, the recent manifestation of which was an act of armed aggression in the Kerch Strait. "We are convinced that the voices of the OSCE and the Council of Europe should be heard in their appeal to Russia regarding the immediate and unconditional release of 24 Ukrainian military personnel who are now prisoners of war," he added.
As reported, on November 25, Russian border ships committed aggressive actions against Ukrainian vessels that set sail from the port of Odesa to the port of Mariupol. Russian special forces fired on and captured three Ukrainian vessels and 24 sailors in the Kerch Strait.
Following "trial" in Russian-occupied Crimea, all captured sailors were detained, charged with violating the border and taken to Moscow. All of them are currently in jail.