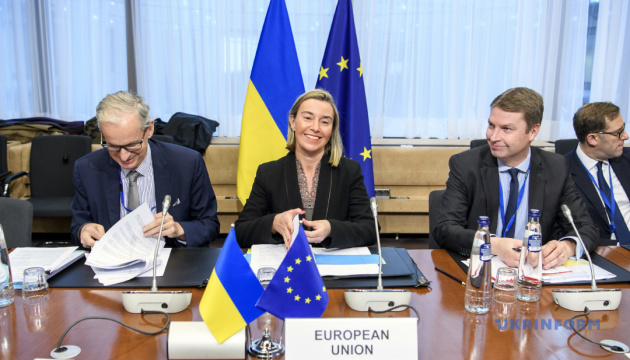 Mogherini: EU takes clear, firm and unified stance on events in Kerch Strait area
The European Union takes a clear, firm and unified stance on the events in the Kerch Strait area and demands to immediately release Ukrainian ships and servicemen captured by Russia.
"Our meeting took place amid the escalation around the Kerch Strait, and it was the first issue that I discussed with the Prime Minister [of Ukraine] this morning. The European Union has stood united and firm from the very beginning, saying that there is no justification for the use of military force by Russia against Ukrainian ships and that all the captured sailors and ships must be released. Free navigation through the Kerch Strait must be ensured in accordance with the international law," High Representative of the European Union for Foreign Affairs and Security Policy Federica Mogherini said at a press conference following the 5th Association Council meeting between the EU and Ukraine.
She recalled that the stance of the European Union on this issue was reaffirmed at the level of heads of state and government of 29 member states during the meeting in Brussels last Thursday.
Mogherini confirmed that the European Union continued to support Ukraine on the path of reforms.
"Today we had the opportunity to remind once again that we strongly value our relations with Ukraine, we strongly support Ukraine, in particular, in the process of reforms, which was reflected in one of the financial agreements we signed at the Association Council meeting this morning," the High Representative of the Union added.
ol