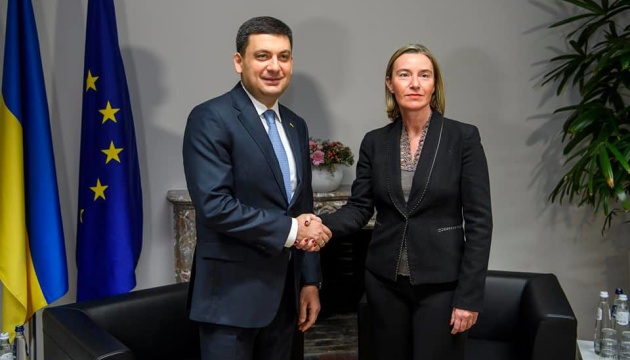 Groysman discusses with Mogherini need for strengthening sanctions against Russia
Ukraine and the European Union should consolidate international pressure on the aggressor country and increase the policy of sanctions so that to liberate Ukrainian sailors and military vessels, as well as to resume free navigation in the Azov Sea.
These issues were discussed during a meeting between Prime Minister of Ukraine Volodymyr Groysman and High Representative of the EU for Foreign Affairs and Security Policy Federica Mogherini in Brussels, the Government portal reports.
"We praise the readiness of our European partners to support Ukraine amid new Russian aggression in the Azov and Black Seas. That is why consolidation of international pressure and strengthening of sanctions against the Russian Federation are needed, first of all, with the purpose of liberating 24 Ukrainian sailors and three military vessels captured by Russia. Moscow has crossed the line. The EU response to Russia's aggression in the Azov Sea should be comprehensive and more decisive," said Groysman.
In turn, the High Representative of the EU noted that Brussels will support Ukraine, and the recent decision of the EU Council to extend sanctions is a confirmation of this position.
During the talks, the parties discussed the course of reforms being carried out in Ukraine, the further guidelines for the government's economic policy, and anti-corruption measures, in particular, the launch of the Anti-Corruption Court.
Following the talks, Groysman and Mogherini took part in the ceremony of signing of a number of international agreements between the Government of Ukraine and the European Commission: on the financing of the EE4U-II Energy Efficiency Support Program for Ukraine, on the financing of the Technical Cooperation Program 2018, on the financing of the program EU4Skills: Best Skills for Modern Ukraine, on the financing of the Program for the Facilitation of Contacts among People: the House of Europe.
The documents envisage the implementation of energy saving policy, strengthening the institutional capacity of the Ukrainian authorities, improving the efficiency of reforms in the field of vocational education in Ukraine, and the professional exchange for short-term professional training in EU member states.
iy