Poroshenko gives Tusk, Stoltenberg lists of Russians involved in capture of Ukrainian sailors
Ukrainians President Petro Poroshenko has handed over to European Council President Donald Tusk and NATO Secretary General Jens Stoltenberg the lists of Russian military, FSB officers and other persons involved in the capture of Ukrainian sailors.
He said this at a joint press conference with NATO Secretary General in Brussels on Thursday, according to an Ukrinform correspondent.
"Yesterday we passed to President Tusk at the European Council, the European Commission, and today I passed to the secretary general the information regarding specific names of Russian soldiers, FSB employees who were involved in a pirate campaign, in aggression against Ukrainian ships in the Black Sea. These were also officers, FSB employees, prosecutors, investigators, and judges who tried to imprison Ukrainian soldiers," Poroshenko said.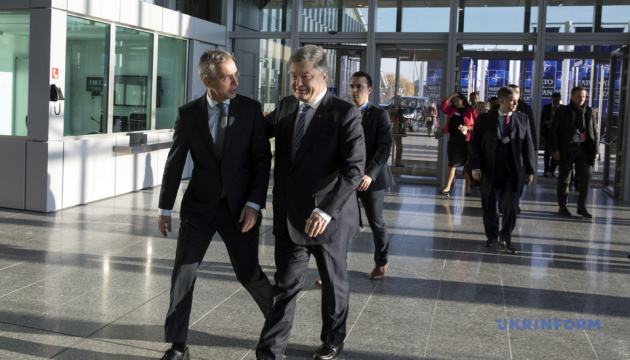 At the same time, the president once again stressed that Ukrainian sailors captured by Russians are prisoners of war and Russia has no jurisdiction over these 24 Ukrainian servicemen.
He also noted that discussions were currently being held on the formation of a new package of sanctions against Russia in connection with its aggression in the Black Sea and the Sea of Azov.
On November 25, Russian border ships committed aggressive actions against Ukrainian naval vessels that were en route from the port of Odesa to the port of Mariupol. They fired on and seized three Ukrainian ships in the Kerch Strait, on board which there were 24 people.
On November 26, due to Russian aggression, the Verkhovna Rada of Ukraine adopted the law approving a presidential decree on the introduction of martial law for 30 days in ten regions of Ukraine.