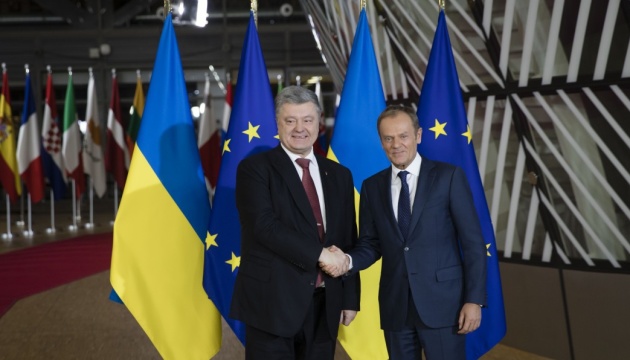 Poroshenko, Tusk meet in Brussels
Ukrainian President Petro Poroshenko has met with European Council President Donald Tusk in Brussels.
The head of state informed Tusk about the consequences of an act of open Russian aggression in the Kerch Strait and existing threats to regional security.
Poroshenko stressed the need to provide a powerful and adequate response from the EU to Russia's aggression against Ukraine on November 25 to counteract the strategy of the Kremlin's "creeping occupation" of the Azov Sea and the Kerch Strait. He called on EU leaders to condemn Russia's aggressive actions and demand the restoration of freedom of navigation and the immediate and unconditional release of 24 sailors and three ships seized by Russia. Poroshenko handed Tusk the lists of Russian citizens and ships involved in the act of aggression.
The head of state emphasized the importance of strengthening the European Union's assistance to the social and economic development of the Ukrainian Azov region, which suffers from a targeted blockade by Russia. To this end, the president handed over to the EU institutions and member states the list of humanitarian and infrastructure projects that could be supported by European partners.
The leaders noted the lack of progress on the part of Russia in the implementation of the Minsk agreements, which stipulates the need for the European Council to approve the political decision to further extend EU economic and sectoral sanctions against Russia after January 31, 2019. In this context, the president thanked for the recent decision by the European Council to impose EU sanctions on nine persons responsible for organizing and holding illegal elections in Donbas on November 11, 2018.
The presidents agreed to intensify cooperation to counter external interference in electoral processes in Ukraine and the European Union in 2019.
The sides exchanged views on ways to implement agreements following the 20th EU-Ukraine Summit, in particular with regard to deepening sectoral integration in the energy sector, the digital market, justice and home affairs, and customs. In this context, the leaders agreed to pay special attention to discussing these issues at the next meeting of the EU-Ukraine Association Council on December 17, 2018.