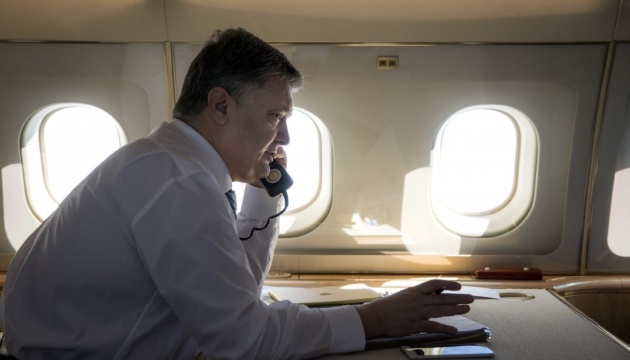 Ukrainian president to visit Brussels on Dec 12-13
Ukrainian President Petro Poroshenko will visit Brussels on December 12-13, where he will hold talks with the leadership of the institutions and member states of the European Union and will discuss ways to further strengthen pressure on Russia.
He wrote this on his Facebook page.
"On December 12-13, I will pay a visit to Brussels for negotiations with the leaders of the EU institutions and member states on the eve of an important meeting of the European Council, where the EU will discuss the ways for further strengthening of pressure on Russia and assisting the Ukrainian Azov region," Poroshenko said.
In addition, the president said that on Monday, Ukrainian Foreign Minister Pavlo Klimkin would brief the EU Foreign Affairs Council about an act of aggression in the Black Sea and the Kerch Strait.
At the same time, the head of state thanked the EU Council for imposing sanctions on nine individuals responsible for sham "elections" in occupied areas of Donetsk and Luhansk regions of Ukraine.
"I welcome the decision of the EU Council to impose new EU sanctions against nine persons responsible for organization and conduct of illegal 'elections' in temporarily occupied areas of Donetsk and Luhansk regions on November 11. Every violation of the Minsk Arrangements, every new escalation of aggression by Kremlin must receive an adequate response from the democratic world," Poroshenko said.
On December 10, EU foreign ministers approved the imposition of sanctions against nine individuals responsible for organizing "elections" in occupied territories of Donetsk and Luhansk regions.
Despite the categorical reaction of the international community, the Russian side organized the so-called local elections in occupied territories of Donetsk and Luhansk regions of Ukraine on November 11. The international community condemned the holding of these fake elections.
On November 25, Russian border ships committed aggressive actions against Ukrainian vessels that set sail from the port of Odesa to the port of Mariupol. They fired on and seized three Ukrainian ships and 24 sailors in the Kerch Strait.
On November 26, the Verkhovna Rada of Ukraine adopted the law approving a presidential decree on the introduction of martial law for 30 days in ten regions of the country due to Russian aggression.
op