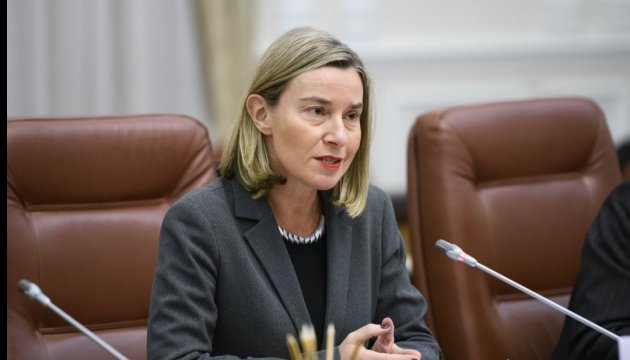 Russia must immediately release Ukrainian sailors and ships - Mogherini
Russia must release unconditionally and without delay the Ukrainian ships and crew captured near the Kerch Strait.
EU High Representative for Foreign Affairs and Security Policy Federica Mogherini said this at the 25th OSCE Ministerial Council in Milan on Thursday, Ukrinform reports.
"We call on all sides to show utmost restraint to de-escalate the situation immediately. And we urge Russia to release the captured vessels, their crew and equipment unconditionally and without delay. We expect Russia to ensure unhindered and free passage through the Kerch Strait, in accordance with international law," Mogherini said.
She recalled that among the principles that formed the basis for the creation of the OSCE are respect for every country's territorial integrity and political independence; the respect for international law and international agreements; and the commitment to avoid military confrontation and to promote disarmament.
"These founding principles of the OSCE are still the main pathway to re-establishing trust among us and maintaining peace and security in Europe. We have all agreed that violations of these principles could only have a negative impact on our collective security. Yet, we must acknowledge that such violations are still taking place in Europe. The recent events in the Sea of Azov are a reason for grave concern for us and represent another case where our common principles are being broken," Mogherini said.
She said that this violation "comes as a consequence of the illegal annexation of the Crimean Peninsula by the Russian Federation and shows how dangerous a path is that brings us farther away from the common principles which all our countries defined together in the Helsinki Final Act and the Paris Charter."
Mogherini added that the EU remains committed to promoting a sustainable political solution to the conflict in eastern Ukraine, in line with the founding principles of the OSCE -with full respect for Ukraine's sovereignty, independence, unity and territorial integrity.
"We continue to call for the full implementation of the Minsk Agreements by all sides and we have made clear that the so-called 'elections' in the non-government controlled territories in eastern Ukraine are illegal and undermine the commitments taken under the Minsk agreements," she added.
op