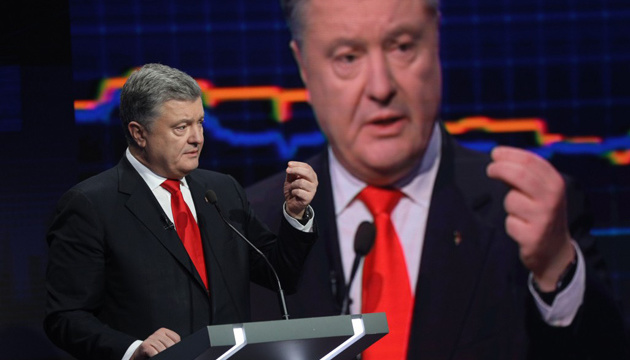 Poroshenko reiterates that martial law will not affect elections
President Petro Poroshenko has stated that martial law has been introduced in Ukraine so that to protect the Ukrainian military and it will not restrict constitutional rights and freedoms of Ukrainian citizens, the president's press service reports.
"Why is martial law introduced in Ukraine? There are two models [of actions under such a legal regime]. The first is to restrict constitutional rights and freedoms. So do the dictators. Whether there is a reason for this or not - they begin with it. There is the second model - to protect the Ukrainian warrior. To protect legally by giving the right to use weapons outside the Joint Forces Operation area, where weapons are used under the law on the de-occupation of Donbas. To protect the warrior constitutionally. And to significantly reduce the time for possible reaction in the event of a large-scale ground-based Russian aggression," Poroshenko stated during the Svoboda Slova live talk show on ICTV Channel.
He emphasized that during the discussion of that issue in the Verkhovna Rada, in order to stop various insinuations, he asked Speaker Andriy Parubiy to put one more question to the vote - on setting the date for the presidential elections in Ukraine.
"What does it mean? On the one hand, the issue of our state security is a matter of protecting the sovereignty, territorial integrity and independence of our state by the Ukrainian army. But on the other hand, it is the defense of freedom and democracy. Including the constitutional rights and freedoms of citizens. Including the right to vote," Poroshenko said.
"Therefore, as President, I guarantee that the elections will be held on March 31, 2019. And there will be no reason to postpone them," he stressed.
iy