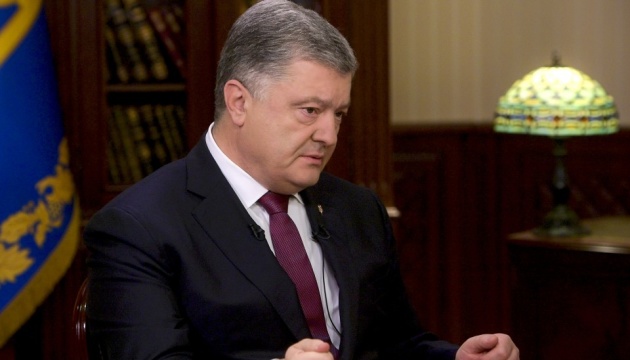 Putin ignored request for phone call over attack on Ukrainian ships - Poroshenko
Ukrainian President Petro Poroshenko has said that Russian President Vladimir Putin ignored his request for a telephone conversation about an attack on Ukrainian ships in the Sea of Azov.
Poroshenko said this in an interview with French television channel France 24, according to the website of the head of state.
In particular, Poroshenko said that when an attack on Ukrainian ships in the Kerch Strait was made, he had immediately instructed to contact Putin.
"Unfortunately, Putin has not responded so far to my request for a direct telephone conversation in any format - bilaterally, in the Normandy format, or with the participation of American partners," Poroshenko said.
According to him, the Russian side is refusing to hold direct telephone negotiations.
The head of state said that he had recently met with the family of a captured sailor: "They [Ukrainian sailors] are not criminals, as Putin wants to show. They are prisoners of war and under the jurisdiction of the Geneva Convention."
Poroshenko stressed that Russia had brutally violated international law not only by attacking the Ukrainian military but also by closing the Kerch Strait, trying to block the whole of the Azov Sea, which is, in fact, an attempt to occupy the Azov Sea.
"An urgent demand of the whole world is to immediately release Ukrainian sailors and ships," the president said.
The head of state stressed that Russia had fired on and captured Ukrainian ships and sailors in the neutral waters of the Black Sea.
Commenting on Putin's intentions, Poroshenko said: "Perhaps I'm not the man who can comment on Mr. Putin's absolutely unpredictable actions. What is the intention of the Russian Federation when they illegally annexed Crimea? What is Putin's intention when Russian forces gave the order to attack the MH17 aircraft and then tried to find some absurd theories to explain Russian participation? What is Putin's intention in organizing a chemical attack in Salisbury? What is Putin's intention in the murder of Ukrainians in the east of my country? What is Putin's intention to open fire in the Black Sea? No one in the world knows."
According to him, sanctions are a motivation to force Putin to sit at the negotiating table, achieve de-escalation of the situation and remove Russian troops from Ukraine.
As reported, Russian border ships on November 25 committed aggressive actions against Ukrainian ships that set sail from the port of Odesa to the port of Mariupol. Russian special forces fired on and captured three Ukrainian ships with 24 sailors on board in the Kerch Strait.
On November 26, 2018, the Verkhovna Rada of Ukraine adopted the law approving a presidential decree on the introduction of martial law in Ukraine for 30 days in ten regions of the country.
op