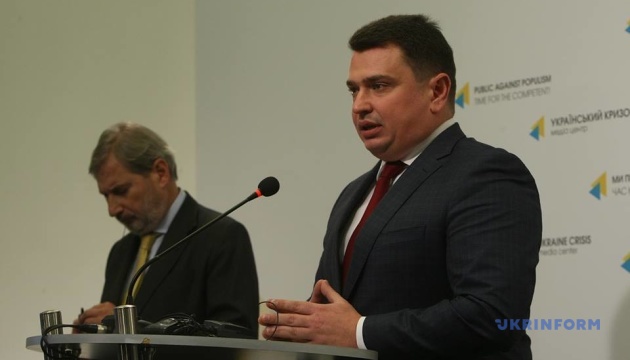 Ukraine should ensure independence of all anti-corruption institutions - Commissioner Hahn
Ukraine should ensure the independent functioning of all anti-corruption bodies and restore confidence in the Specialized Anti-Corruption Prosecutor's Office, EU Commissioner for European Neighborhood Policy and Enlargement Negotiations Johannes Hahn has said.
He said this at a press briefing in Kyiv on Friday, Ukrinform reports.
"Ukraine needs to ensure the independence and effective functioning of all anti-corruption institutions involved in the criminal justice chain. I am very concerned about the loss of credibility of the specialized anti-corruption prosecutor who was found to have seriously violated rules of ethics, but remains in office. I would urge the Ukrainian authorities to take the necessary measures to reestablish that credibility," Hahn said.
Hahn said he had a meeting with Director of the National Anti-Corruption Bureau of Ukraine (NABU) Artem Sytnyk.
"I would really like to commend NABU's excellent work and the results it managed to deliver despite well-known strong pressure against it. In particular, I would like to emphasize the work of dozens, not to say hundreds, of detectives who are doing on a daily basis their work, which is not seen, but this is a task of a detective. They are doing a great job, and I think it's important. I would like to use the opportunity to say thank you to them, because very often this is not adequately recognized in public," the commissioner said.
In his opinion, Ukraine needs to quickly establish an anti-corruption court since "improvement in this area contributes to greater attractiveness of Ukraine to investors if the level of corruption is going down" and this will help create more jobs.
op