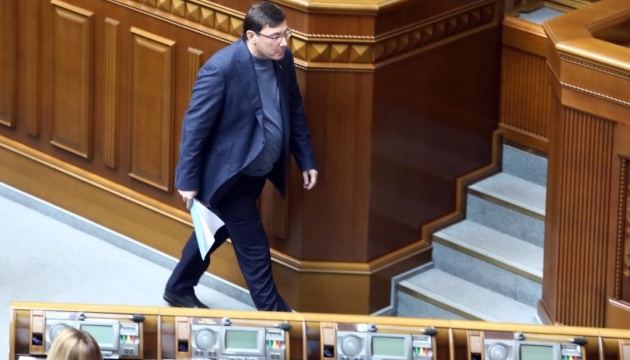 Ukrainian parliament rejects Lutsenko's resignation as prosecutor general
The Verkhovna Rada has not supported the resignation of Ukrainian Prosecutor General Yuriy Lutsenko.
Only 38 deputies supported the dismissal of the prosecutor general at a parliament meeting on Tuesday, an Ukrinform correspondent reports.
"I had requirements for voting, and I can use my right, I can hold only a political, rating vote, not a real vote. If there is such a requirement, I will hold [such a vote]," Verkhovna Rada Chairman Andriy Parubiy said, while putting the question of support for Lutsenko's statement of resignation to the vote.
Earlier on Tuesday, November 6, Prosecutor General Yuriy Lutsenko said that he would submit a statement of resignation in response to respective calls of activists. He said this from the rostrum of parliament, while reporting on the results of the investigation into the murder of activist Kateryna Handziuk.
"Therefore, in order to prove that nobody is clinging to power, today I am submitting a statement of resignation to the president of Ukraine, and you have to consider this issue in parliament," the prosecutor general added.
He called on people's deputies to consider his resignation this week.
A well-known activist, volunteer, member of the Kherson City Council, Kateryna Handziuk, who became the victim of an acid attack last summer, died at hospital on November 4. According to preliminary reports, the reason was a blood clot. The woman was 33 years old.
The attack on Handziuk occurred on July 31. Unidentified individuals poured her with sulfuric acid. She suffered chemical burns and partially lost sight. Handziuk underwent over ten operations. She underwent treatment in Kyiv's burn center from August 1.
Five people are suspected of an assassination attempt on Handziuk. All of them were detained.
On November 4, investigators requalified the attack on Handziuk to deliberate murder in accordance with clauses 4, 6, 11, 12, Part 2 of Article 115 of the Criminal Code (deliberate murder for mercenary motives, committed with special cruelty, ordered by a group of individuals on preliminary collusion).
On November 5, human rights and civil society organizations issued an open appeal requesting a public report on the investigation into the Handziuk case. The appeal also contains the demand for the resignation of Prosecutor General Yuriy Lutsenko and Interior Minister Arsen Avakov.
op