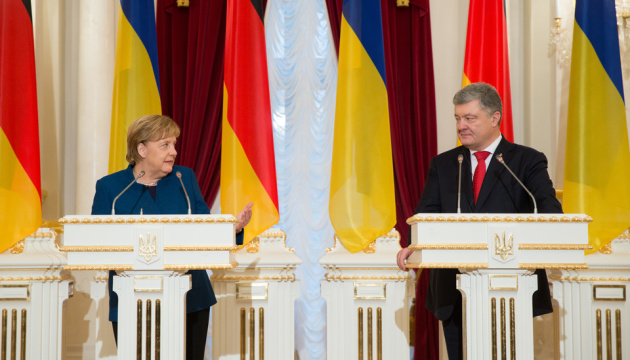 Poroshenko gives Merkel new evidence of Russian crimes against Ukraine
Ukrainian President Petro Poroshenko has discussed with German Chancellor Angela Merkel the situation in Donbas and in Russian-occupied Crimea and provided new evidence of Russian crimes against Ukraine.
He said this at a joint press conference with the chancellor in Kyiv on Thursday, an Ukrinform correspondent reports.
"I can confirm that the topic of the termination of Russian aggression was one of the leading during our negotiations. We discussed the situation in Donbas, in Crimea, including in the field of human rights. I provided new irrefutable evidence of Russian criminal actions against Ukraine and handed over respective documents," Poroshenko said.
He said he had assured Merkel that Ukraine reaffirms its commitment to the Minsk agreements and is ready to fulfill its obligations on the security component.
At the same time, Poroshenko said that the effectiveness of the Minsk agreements depends not so much on Ukraine, as on their conscientious fulfillment by Russia.
He noted that the security situation in Donbas remains very complicated: "The other side is constantly provoking escalation, so today we strongly condemn continued shelling from proscribed weapons, which is carried out from territories not controlled by Ukraine. It is also unacceptable that people, including civilians, women and children, continue to die due to the actions of the aggressor."
The president also said that "an absolutely clear joint position on the importance of the release of Ukrainian political prisoners illegally detained in the Russian Federation and Crimea, as well as people illegally detained and held hostage in the occupied Donbas," had been expressed at the meeting
Merkel is on a working visit to Kyiv on November 1. Her current visit to Ukraine is the second in the last four years. She last visited Ukraine in August 2014.
op