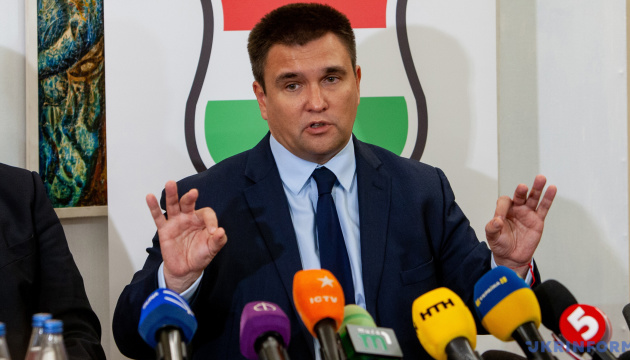 Russian sanctions an attempt to influence Ukraine ahead of elections - Klimkin
An analysis of the Russian "sanctions list" testifies to an attempt by Russia to influence Ukraine before and after elections, Ukrainian Foreign Minister Pavlo Klimkin has said.
"Even a completely superficial analysis of the so-called sanctions list of the Russian Federation and the time of its publication testify to the launch of a television series regarding an attempt to influence Ukraine before elections and after them. However, this, in fact, is not the first episode, it's just a trailer," he wrote on Twitter.
On November 1, Russian Prime Minister Dmitry Medvedev signed a resolution introducing "special economic measures" against 322 individuals and 68 companies from Ukraine. The list includes judges of the Constitutional Court of Ukraine, deputies of the Verkhovna Rada of Ukraine of the eighth convocation, Ukrainian businessmen, officials of the Presidential Administration, heads of executive bodies of Ukraine and large Ukrainian companies, as well as legal entities controlled by Ukrainian businessmen.
In particular, sanctions were imposed on Interior Minister Arsen Avakov, former Prime Minister Arseniy Yatsenyuk, former Right Sector leader Dmytro Yarosh, and others.
op