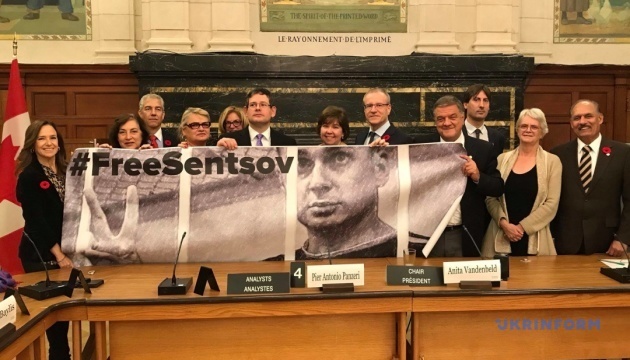 Canada, EU discuss additional sanctions against Russia over persecuting Sentsov
Members of the European Parliament and members of the Parliament of Canada discussed in Ottawa the introduction of additional sanctions against Russia.
"During a joint meeting of the Standing Committee on Foreign Affairs and International Development of the House of Commons of Canada and the European Parliament Subcommittee on Human Rights, we discussed additional sanctions against Russia for imprisonment of Oleg Sentsov and all Ukrainian political prisoners in Russia," Borys Wrzesnewskyj, the Liberal MP of the Canadian parliament, announced after the meeting, an Ukrinform correspondent reports.
He also thanked the MEPs for awarding Sentsov the Sakharov Prize and thus expressing the support for all Ukrainian political prisoners in Russia. "I thanked the parliamentarians for their support for Oleg Sentsov and more than 70 Ukrainians illegally transferred to Russia for torture, demonstrative trials and sentences in the restored Russian GULAG system," the Canadian MP said.
Wrzesnewskyj added that the participants had unfolded a banner in support of Ukrainians held in Russia at the end of the meeting.
As reported, the European Parliament awarded the Sakharov Prize for Freedom of Thought to Ukrainian film director Oleg Sentsov, who is currently illegally imprisoned in the Russian Federation. The decision was approved in Strasbourg on October 25.
ol