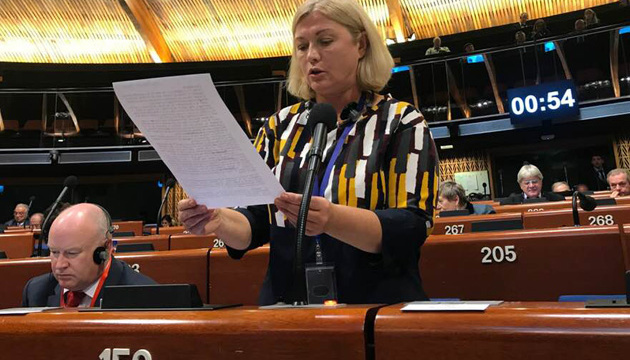 Ukraine working in UN on two extremely important resolutions - Gerashchenko
Verkhovna Rada First Deputy Chairwoman Iryna Gerashchenko is taking part in the UN Security Council's Open Debate on Women, Peace and Security in New York.
She wrote this on her Facebook page on October 25.
"The hall of the UN Security Council. An open debate 'Women. Peace. Security' began a few minutes ago. I will speak on behalf of Ukraine as the president's authorized representative for peaceful settlement," Gerashchenko wrote.
She noted that further steps and coordination of efforts to combat Russian aggression had been discussed with Permanent Representative of Ukraine to the UN Volodymyr Yelchenko.
According to her, Ukrainian diplomats are actively working to ensure that two very important resolutions are adopted during the 73rd session of the UN General Assembly.
"The first one concerns the violation of human rights in the occupied Crimea. The draft resolution will be considered by the Third Committee of the United Nations in November and voted at the General Assembly in December. The second very important resolution that will be adopted at the current session concerns the militarization of the occupied Crimea and the Sea of Azov. Today, the resolution on the Azov Sea was voted by the European Parliament. The next resolution should be adopted by the UN General Assembly," Gerashchenko said.
The key topic of the current debate is gender equality, the role of women in peacekeeping processes, and the violation of the rights of women and girls during conflicts, Gerashchenko said.
"Ukraine has a lot to tell about this issue," she added.
op