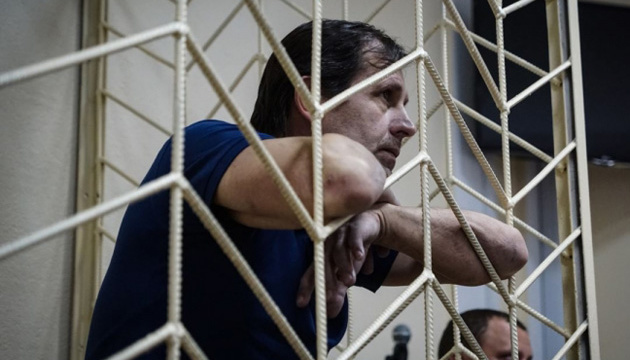 Volodymyr Balukh convoyed to penal colony in occupied Crimea
Ukrainian activist Volodymyr Balukh has been convoyed to the Kerch penal colony in the occupied Crimea.
Radio Liberty's Crimea.Realities project announced this on October 18 with reference to Deputy Chairman of the Mejlis of Crimean Tatar People Akhtem Chiygoz.
Earlier it became known that Balukh had decided to temporarily stop his hunger strike. According to lawyer Dmitry Dinze, Balukh was suspected ulcer or pancreatitis after more than 200 days of hunger strike.
The Kremlin-controlled Supreme Court of Crimea partially mitigated the verdict in case of Balukh having sentenced him to 4 years and 11 months in prison and a fine of RUR 10,000.
The Federal Security Service of Russia detained Volodymyr Balukh on December 8, 2016. The FSB officers claimed that they had found 90 cartridges and several TNT blocks in the attic of his house. Balukh's defense team and human rights defenders say that he is a victim of repression for his pro-Ukrainian position – Ukraine's flag in the courtyard of his home.
Volodymyr Balukh went on a hunger strike on March 19, 2018.
ol