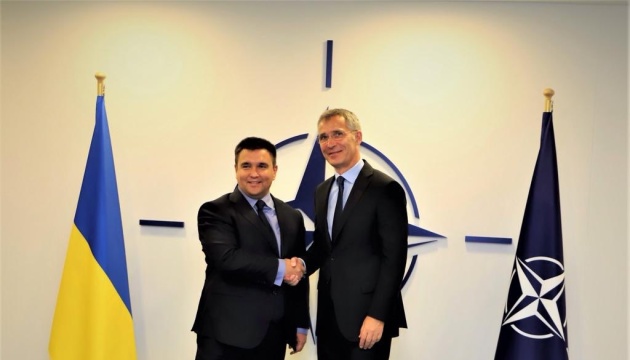 Klimkin, Stoltenberg discuss unblocking of Ukraine-NATO Commission
Ukrainian Foreign Minister Pavlo Klimkin met with NATO Secretary General Jens Stoltenberg at the NATO headquarters in Brussels on Monday, the Mission of Ukraine to NATO has reported on Twitter.
"Today Ukrainian Foreign Minister Klimkin met with NATO Secretary General Stoltenberg at the alliance's headquarters," reads the statement.
During the meeting, the sides discussed common security challenges faced by NATO member states and Ukraine, in particular the security situation in the Black and Azov Seas.
When discussing the areas of practical cooperation, Klimkin asked Stoltenberg to intensify the work of the NATO Trust Funds that are intended to help strengthen the safety of ammunition depots in Ukraine, which is particularly relevant amid recent events near the town of Ichnia in Chernihiv region.
Politicians also exchanged views on the activity of the working mechanisms of Ukraine's special partnership with NATO, in particular the meetings of the NATO-Ukraine Commission at ministerial level.
According to Stoltenberg, the unblocking of the commission's work depends on agreements between Ukraine and Hungary on the issue of ensuring the language rights of the Hungarian minority, in particular the full implementation of the recommendations of the Venice Commission on the implementation of the Ukrainian law on education.
Klimkin, in turn, stressed that Ukraine's goal remains to guarantee equal rights to the residents of Transcarpathia, create conditions for their full development as citizens of Ukraine, and support their languages, traditions, and culture.
On October 15-16, Klimkin visits Brussels and Luxembourg to attend the ninth ministerial meeting of the Eastern Partnership initiative and hold meetings with representatives of the EU and NATO institutions.