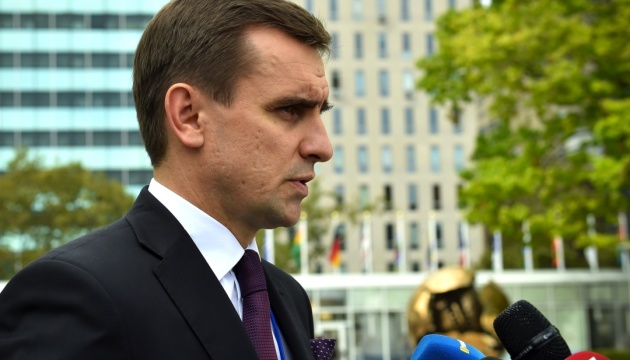 Ukraine proposes that EU should expand sanctions against Russia over Kerch Strait Bridge
The actions of the Russian Federation in the Sea of ​​Azov waters, blocking and illegal inspections of commercial vessels and the very fact of construction of a bridge across the Kerch Strait create a very dangerous situation for European security in general.
Therefore, Ukraine expects the European Union to take more decisive and specific actions in deterring the aggressor country, Deputy Head of the Presidential Administration of Ukraine Kostiantyn Yelisieiev said at the European Parliament's Subcommittee on Security and Defence hearing on Thursday.
"Since the Kerch Strait Bridge was commissioned on April 29, Russia has been blocking commercial vessels on their way to the port of Berdiansk. More than 200 ships have been detained so far. Most of those ships were flying the European flag. The situation is very dangerous as the Russian Federation steps up the military escalation and intends to build a naval base in the Sea of Azov by relocating part of its fleet from the Caspian Sea," Yelisieiev said.
He expressed conviction that the response from the European Union to the illegal construction of the Kerch Strait Bridge was weak and insufficient. Sanctions were imposed only against six companies involved in its construction. However, such sanctions, Yelisieiev noted, should be also imposed on the companies and economic entities of the Russian Federation that use this bridge.
ol