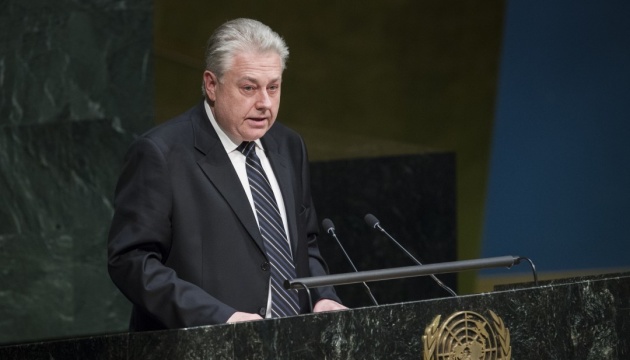 Ukraine speaks at UN about Russia's militarization of Crimea
Russia's military buildup in the occupied Crimea, as well as the use of the peninsula as a base for combat operations in Syria and other parts of the region, creates far-reaching consequences for Southern Europe, North Africa, and the Middle East.
Ukraine's Permanent Representative to the UN Volodymyr Yelchenko said this at a meeting on the militarization of the occupied Crimea, according to an Ukrinform correspondent.
"The occupation and the subsequent militarization of Crimea have far-reaching consequences for security not only in the Black Sea region but also throughout Southern Europe, as well as in North Africa and the Middle East," the Ukrainian diplomat said, meaning Moscow's support for the Assad regime.
Yelchenko said that Moscow had chosen the way of escalation and expanding aggression. He called the level of Russia's militarization of the Crimean peninsula "unprecedented."
At the same time, he emphasized that Russia continues to systematically violate fundamental rights and freedoms in the occupied Crimea, especially against Crimean Tatars and ethnic Ukrainians, which was recorded by respective international mechanisms, including the UN, the OSCE and the Council of Europe.
"The question of the return of Crimea remains an absolute priority in Ukraine's foreign and domestic policy," he said.
In addition, Yelchenko drew attention to the latest spread of Russian military aggression in the Sea of Azov, which also "endangers stability" in the region. He recalled the obstruction by Russia of navigation in the Azov Sea, the buildup of forces, as well as the creation of environmental problems.
"Given the current unstable security situation, Ukraine intends to submit a draft resolution to the UN General Assembly in order to prevent Russia from further militarizing the territory of Ukraine and the surrounding regions," Yelchenko said.
op